I thought I'd start this month's roundup by sharing some new ethical online retailers I stumbled across recently: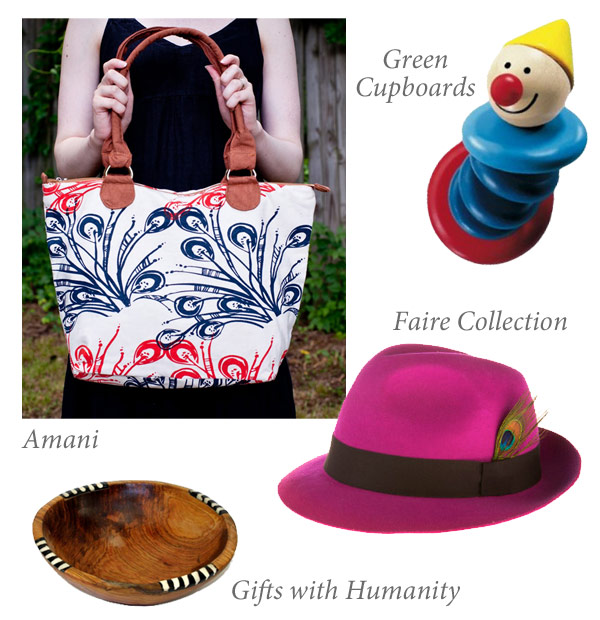 Amani

 – Clothing and accessories made with beautiful, uniquely patterned fabrics, plus other handcrafted goods.

Gifts with Humanity

 – Accessories, home decor and more. This is an olive wood bowl with bone inlay.

Faire Collection – Jewelry and accessories. I love their hats!
GreenCupboards – Filter by the various "eco-traits" to find ethically-made and sustainable products. Tons of baby stuff if you're in that season of life!
And here's what I've been reading this month:
Where Does Discarded Clothing Go? – This article by Elizabeth Cline, the author of Overdressed: The High Cost of Fast Fashion, sheds light on for-profit textile recycling businesses and how they can help alleviate the problem of textile waste in landfills. (The Atlantic)
Mata Girl in the World: Jenny – Preview Mata Traders' fall collection and read an interview with Jenny Gootman, Director of Social Consciousness and Innovation at West Elm. (Mata Traders)
Effortless Sustainable Style by Amour Vert – My favorite part of this blog post isn't the clothes (though they are lovely)… it's that Summer describes how to care for silk garments without dry cleaning them! Major question of my life: answered. (Tortoise & Lady Grey)
Is Fairtrade the only ethical act in town? – This article highlights businesses that are going beyond the requirements of fair trade certification to benefit producers even further. (Money Market UK)
Textile Review: Bamboo – How sustainable is bamboo fabric? Maybe not as sustainable as fashion retailers would like us to think. Summer describes the bamboo fabric production process and its impact on the environment. (Tortoise & Lady Grey)
Ministers warn UK retailers to do more on human rights and ethical products – British government officials admonish retailers to take bigger steps toward ethical practices, following an exposé about slave labor in the shrimp industry. (The Guardian)
Ethical consumerism delivering 'profitable growth', says market research – Fair trade and organic goods are no longer considered niche products and represent a "major area of profitable growth." (Blue & Green Tomorrow)
A Chic Shopping Shift – Jason Keehn, founder and CEO of Accompany, argues that the key to wider adoption of ethical shopping is more retailers, both brick-and-mortar and online, who carry only fairly-made goods, so that consumers will easily know where to go. (Huffington Post)
How Much Are You Wearing + Promoting Better Products Or Just Promoting Consumption? – I came across this blog recently and enjoyed reading a lot of the previous posts. This particular post raises a great question about the line between promoting better choices and promoting unnecessary consumption. (This Kind Choice)
My life is forever changed now that I know how to wash silk without dry cleaning it. Let me know if you find any earth-shattering tidbits in the links above!