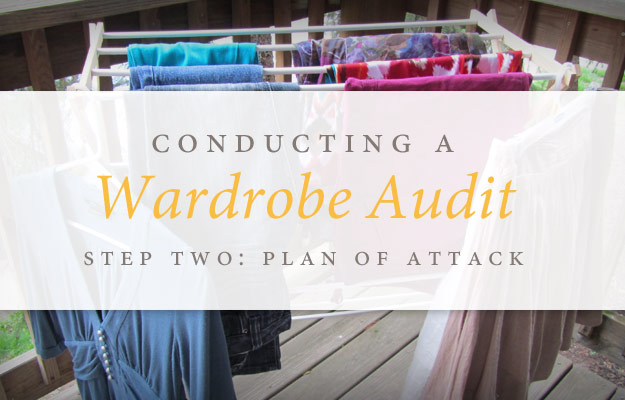 It's been several weeks since my first post on conducting a wardrobe audit, so I thought I would share an update on how that project is going. There hasn't been a ton of movement due to some trips I've taken recently and the changing seasons (I'm trying to remember how to put my summer clothes together into outfits), but I have taken one step toward creating my overall plan of attack.
What I've started doing is setting aside clothes that need something done to them. I realized how many items of clothing I have that I'm just "making work" instead of taking the time to alter them and make them actually fit. Mostly these are skirts and pants, and the problem on almost all of them is either the length or the fit at the waist. I have some skirts I permanently keep a safety pin on to make the waist the right size. If I go ahead and actually sew the waist, it will sit better and I'll be able to tuck shirts into it, making it a more versatile piece.
The length issue is mostly related to my collection of capri pants. A lot of them are much longer than is flattering on me, creating more of a cankle effect than the desired "check out my shapely gams" effect. I've shortened some capri pants before but they turned out kind of amateur looking, so I might try some different strategies I've found on Pinterest.
Also on Pinterest I've found a couple of tutorials for taking in the waist on jeans. Currently I have several pairs that require a belt and don't look good when I tuck shirts in. I'm skeptical of some of the tutorials because they require sewing elastic into the waistband, and I don't want my skinny jeans to become mom jeans. Right now I'm planning to try it on one of my lesser-worn pairs to see how it goes. I've also tried sewing in darts with a moderate level of success, so that's my backup plan.
One primary obstacle keeping me from acting on any of these ideas is that I'm doing the
100 Day Project
on Instagram, in which I create a piece of art everyday. My sewing table doubles as my art table, so there's not really a way for me to bust out the sewing machine without tearing down my art area. However, my theme for the project is "100 days of not digital," so sewing and altering would definitely fall in as acceptable projects. I actually picked a theme on purpose that would allow me to kill two birds with one stone—creativity and working on my clothes—but I've enjoyed the painting and drawing so much that I'm not ready to pack up those supplies yet. (Follow me
@juliaspangler
if you want to check out my progress!)
Are you making any changes to your wardrobe this spring? Do you also rely on safety pins instead of actually sewing things?