Two new websites that focus on ethical shopping recently launched. While these sites do not necessarily follow all of the Fair for All guide's principles, they offer alternative ways for consumers to find products that align with their values. Both sites require an email address and some other personal information to sign up for a free membership.
Ethical Ocean offers users the option of filtering products by three dimensions: Good for People, Good for Animals, and Good for the Earth Offerings include clothing and shoes for men, women, and kids; accessories; home décor; gifts; beauty and health products; toys; and a random grab bag of other interesting items. Each product page describes how the product qualifies for one or more of the ethical dimensions.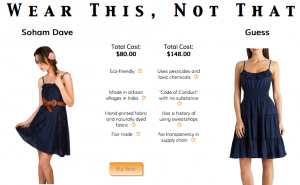 Fashioning Change offers two approaches to ethical shopping. Their "Wear This, Not That" feature matches the styles of specific items at traditional retailers to their ethical counterparts. In love with a shirt from Old Navy? Fashioning Change may list an ethical alternative that looks very similar. This is a great way to demonstrate that fairly-made apparel can be just as fashionable as what you find at the mall. Fashioning Change also offers a more traditional online shopping experience with huge number of filters, including style, price, country of origin, brand, color, and ethical cause. This site focuses on offering clothing, shoes, and accessories for men and women.
Both sites have been added to our Resources page.