When you're trying to shop ethically, one of the most frustrating things can be looking for a specific, hard-to-find item, especially one that also fits your personal style. I faced this struggle last fall when I wanted a new bedspread for my room. I looked for ethically-made quilts, comforters, and blankets without success. I found some options, mostly handmade country-style quilts or plain white organic comforters, but nothing that matched the rest of the décor I already had in my bedroom.
Then I discovered Fair Trade Quilts and Crafts, which we have just added to our Fairly Friendly list (entry). Fair Trade Quilts has a wide variety of gorgeous embroidered and embellished bedspreads from Guatemala and India. They also offer pillowcases, wall hangings, and some accessories. My bedroom has always had an eclectic, international vibe to it, and one of the Guatemalan quilts fit in perfectly.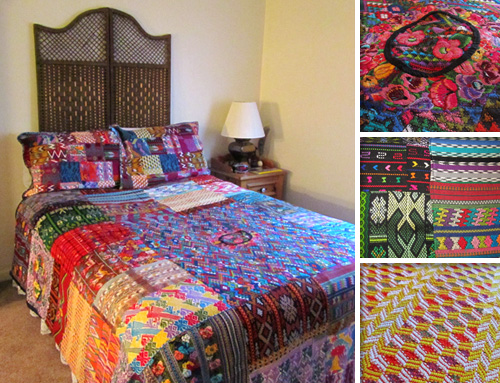 My bed is a double, but I got a queen-sized quilt to allow me to continue using it even if I upgrade my mattress. The larger size also ensured it covered my existing comforter, which erased any concerns I had about the new quilt not being warm enough. (The embroidered surface is heavy but the quilt doesn't have any internal padding.) At around $200, I feel like it was a steal for how detailed it is.
I'm thrilled with my purchase, and happy to have supported Fair Trade Quilts and Crafts. They are Fair Trade Federation members and pay artisans at least 50% more than they would receive in their local market. Since my purchase I have been receiving their excellent e-newsletter that thoroughly covers recent happenings in the fair trade movement.
Not all quests for ethical products end this way. (Don't get me started on my mission to find fair trade curtains that actually block sunlight…) But we hope we can help you find more of what you need using our Guide and Fairly Friendly list.
Do you have an ethical-shopping success story? What about something you haven't been able to find yet?