Through my work with United Against Contemporary Trafficking, I have been fortunate to learn about byTavi, an ethical micro-enterprise run by the faith-based Center for Global Impact (CGI) in Greenwood, IN. byTavi employs women in Cambodia, providing them a fair wage and quality work environment, and is named after Tavi, the widowed Cambodian woman who helped found the program.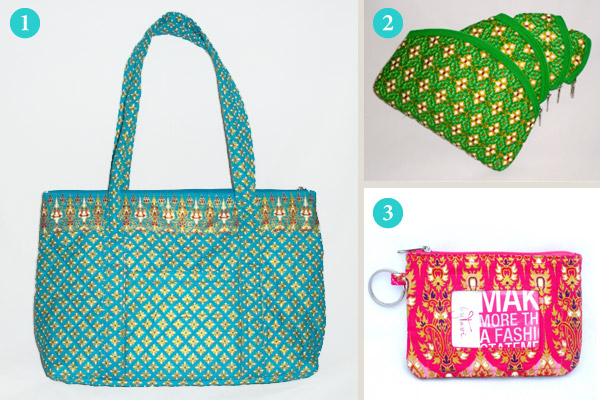 1: Pisei quilted purse
2: Chem nested cosmetic bags
3: Angkor Me In ID wallet
byTavi's bags are unique and colorful. I carried a purple version of this bag for over a year and have another clutch purse from their Imprint Collection that has proven equally fabulous. They have been a favorite micro-enterprise project of mine for a while, so I wanted to share them with you!
I spoke with Whitney Vance, the Marketing and Relationship Coordinator at CGI, about what makes byTavi so unique.
1. Tell us about the different products that byTavi offers.
When byTavi first began 5 years ago, the team of four women were making simple pillow covers and tote bags. Over the years they have progressed to make a variety of quilted purses and hipsters, ID wallets, wristlets, cosmetic bags, and most recently they have begun making fashion clothing. The team is now composed of over 50 women! The fabrics used in these pieces are all from Southeast Asia, a region known for beautiful, bright, metallic prints.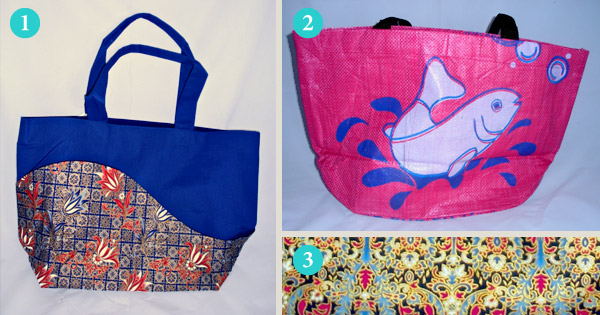 1: Blue and red lotus Wave Bag
2: Recycled rice bag tote
3: Fabric detail on Prum tote bag
2. What makes byTavi products different? How and where are they made?
The logo for byTavi is "Make More Than a Fashion Statement"  because these products are handmade by women who were previously in impoverished situations.  Many of them have been at risk of selling themselves or their children into human trafficking in order to provide basic needs for their families. byTavi provides seamstress training and a consistent job with a reasonable wage. These women are now able to provide all necessary food, clothing, medication, and education to their families.
3. What benefits are provided to the women who make the products?
The women of the byTavi program experience a healthy, fun, community-oriented work place. They work in an open, well-lit, breezy room where they can chat while they work. They also have the freedom to decide how many items they make each week in order to earn the income that they need. Choice is a simple concept that many poor do not have the luxury to experience, we want to give them choices to counteract this. byTavi's goal is that the seamstresses earn three to four times above the poverty level in Cambodia; this is enough to provide the basic needs of their families and a little more.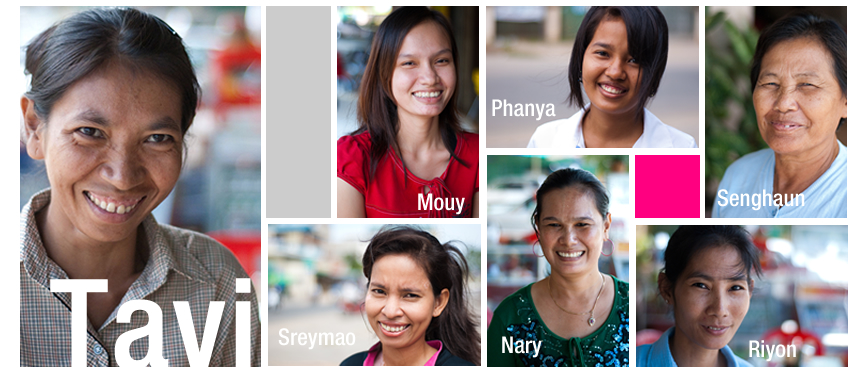 4. Tell us your favorite story about one of the seamstresses.
I have a lot of favorite stories from the ladies. Sreymao's Wave Bag is a great one—she is one of our most skilled seamstresses, but we were even more astounded by her when we saw the bag design she made without any direction or prompting from us. This design is now known as the Wave Bag (named by Sreymao herself) and is one of byTavi's top selling items! What we love about this story is the increase of confidence that we see Sreymao has. Our hope is that the women all experience a glimpse of what they are truly worth—and to feel capable and successful at their jobs is a huge step for these women.
When I was in Cambodia last week I was talking with Tavi and I asked her what she wanted prayer for. She responded in an excited and nervous way that she wanted prayer for her son who was taking an exam in school that week. To us in the United States, that sounds like something normal to pray for, but with these women, it is a remarkable thing. First, it's remarkable that she has enough money to send her son to school; second it's amazing that at 17 he is still in school. byTavi's hope is to empower women to provide for themselves and their families—and we see this happening every day.
5. If I want to do more to support the mission of byTavi, what can I do?
The easiest way to support byTavi is to purchase an item: 100% returns to the byTavi program in Cambodia.
Another way is to host a trunk show—get your friends together and host an evening to educate your friends about human trafficking and to give them a chance to respond immediately.
You can also volunteer with byTavi—we work events every month to spread the word about the program. [College students] can also be a Campus Rep when [they] go back to school!  Contact Kristen at kristenbaynai.cgi@gmail.com or Whitney at whitneyvance.cgi@gmail.com to get more information.
Thanks to Whitney for sharing about byTavi's products and mission! Do you have a favorite local project that helps bring workers out of poverty? Let us know about it in the comments.