In my family, if you don't have your Christmas shopping done by the end of October, you're way behind the curve. Many normal people, however, tend to wait until the skulls are at least put away before shopping for holiday gifts. This year, a new movement is working to put fair trade shopping in the spotlight during the busiest shopping season of the year.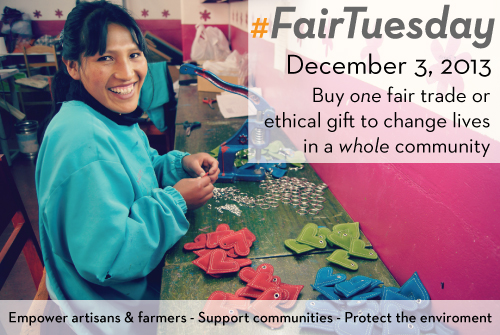 Fair Tuesday is an initiative launched by Global Goods, a fair trade non-profit based in New York. This movement, named in keeping with Black Friday and Cyber Monday, encourages shoppers to purchase ethical and fair trade products during the holiday season, particularly on Tuesday, December 3, and to spread the word using the hashtag #FairTuesday. The goal is to highlight the real social impact that fair trade purchases have on artisan groups and communities.
The Fair Tuesday web page has an extensive list of retailer partners where shoppers can find ethical goods, and Fair Trade Federation members are marked with an asterisk for consumers who want additional verification of ethical practices.
I've been trying to get mostly fair trade gifts for the last few years, so I'm excited to be able to toot the fair trade horn this year and encourage others to do the same! (I also love any excuse to use a hashtag.)
How do you usually get your holiday gifts—in store, online, DIY? Will you participate in Fair Tuesday? Share in the comments!