We're excited to add a new voice to the blog today: Fair for All co-founder Laura! Learn more about Laura on the Team page. —Julia
If you're anything like me, you are tempted to take a personality quiz from time to time. Lately, I have been hoping for an opportunity to re-take the Myers-Briggs Personality Type test, because the last time I was assessed was during college. Alas, the occasion hasn't presented itself to me yet. While I await the chance to take that ultimate personality quiz, there is another simpler one being offered for free that takes only a minute or less to answer. This is through BeFair.org, a new Fair Trade USA website launched on October 1, designed to share the results of a national survey about fairness throughout the fifty United States. Though the nationwide survey has been completed, this website expands upon it through the "How Fair Are You?" quiz — intended to discover the Fairest Places in America.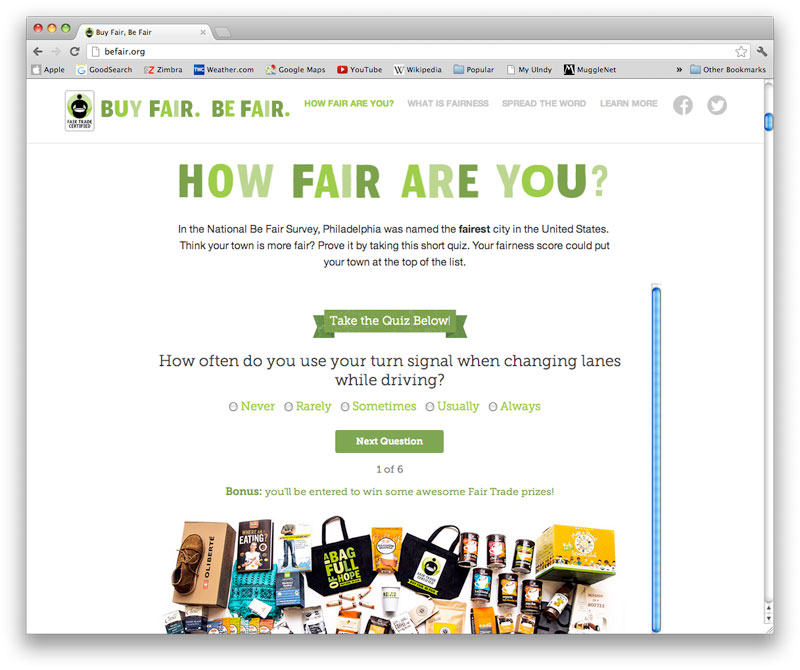 The quiz is comprised of just six questions that cover how you feel about things such as tipping waiters and access to education. Once you finish and receive your result, look through the creative infographic to learn how many Americans do – or don't do – these "Buy Fair Be Fair" activities. As you continue to scroll down the page, you will find links to Fair Trade Certified products and an "In the News" section that directs you to blogs covering fair trade topics. And the best part? Read the Fair Trade Stories beneath "Learn More" to see how the fair trade movement is impacting individuals and groups around the world.
One important thing to mention is that there are prizes to be had! By taking the quiz, you will be entered to win fair trade products. Furthermore, daily prizes are being offered for ten people who share #BeFair through social media. As I write, the daily prize is a gift pack of fair trade barkTHINS snacking chocolate. Who doesn't like winning prizes? I myself just hash-tagged today to spread the word (and hopefully win something).
I love that Fair Trade USA has made this creative website that introduces ethical standards in such a simple and interactive way. Join both them and us by continuing to celebrate Fair Trade Month and move forward into a lifestyle that echoes the motto: Buy Fair. Be Fair.