Brilliant Earth, the website best known for jewelry created with recycled metals and conflict-free gemstones, recently launched a line of certified Fairmined gold jewelry.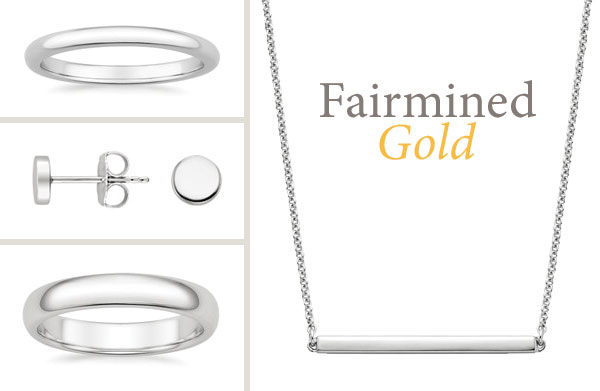 The Fairmined certification seeks to create opportunity for economically disadvantaged mining groups and their communities. Its requirements include standards regarding child labor, worker pay, safe working conditions, environmental protection and more.
The certification was developed in 2009 in a partnership between the Alliance for Responsible Mining (ARM), a group committed to fostering social justice and environmental responsibility in artisanal and small-scale mining, and Fairtrade International (FLO). Today ARM administers the certification independently. The Fairmined Standard lays out the certification's requirements in four categories: social development, economic development, environmental protection and labor conditions. You can read the full text of the Fairmined Standard on the ARM website. (I found the website overall to be informative and transparent—it's worth a look if you want a closer look at the nuts and bolts of the certification.)
Brilliant Earth's Fairmined collection features four styles of white gold jewelry: two wedding bands, a bar pendant, and stud earrings. The items are priced as fine jewelry, so they're definitely investment pieces. The styles are timeless and versatile, however, and would have a long life outlasting short-lived trends.
The gold for the collection is sourced from two mining co-ops in Peru, and you can read more about each source on the Fairmined collection page. Because of the low volume of gold generated by these small-scale operations, the items in the collection are produced in small quantity. All Brilliant Earth jewelry is designed and manufactured in the United States.
What do you think of the new collection? I think the styles are lovely, and I'm impressed with the transparency of ARM and their certification process.