Happy holidays! We're taking next week off, so this month's roundup is coming early. Here are some of the articles and features I've been checking out this month: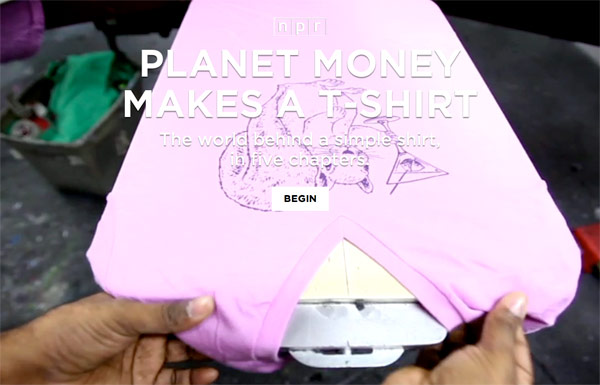 Planet Money Makes a T-Shirt – NPR's Planet Money team follows the creation of a t-shirt around the globe, from the cotton farm to the factory to the consumer. The story is told in five short video chapters—I've only watched the Cotton one so far, but it was fascinating and I can't wait to watch the rest! (NPR)
My Fair Gift Guide – This is technically from November, but can I say how impressed I am by Rachel's catalog of ethical holiday gifts? (My Fair Vanity)
Amazon UK: A tough place to work, but Brits keep clicking – A BBC documentary reveals the harsh working conditions of an Amazon fulfillment center. (Christian Science Monitor)
Connecting the Dots between Consumerism and Indifference – According to a 2012 survey, consumers in developing countries feel greater guilt about their environmental impact despite it being relatively small, while consumers in developed countries feel less guilt but have a much larger environmental impact. (Green Fudge)
Microsoft's Stress-Detecting Bra Attempts to Curb Emotional Eating – This story is an oddball, but it's an interesting idea to use clothing to try to influence healthier behavior. (Triple Pundit)
I hope you have a peaceful holiday that's not about shopping or Pinterest envy or any "gotta have it!" stress. Enjoy some cozy times with family and friends, and I'll see you after Christmas!