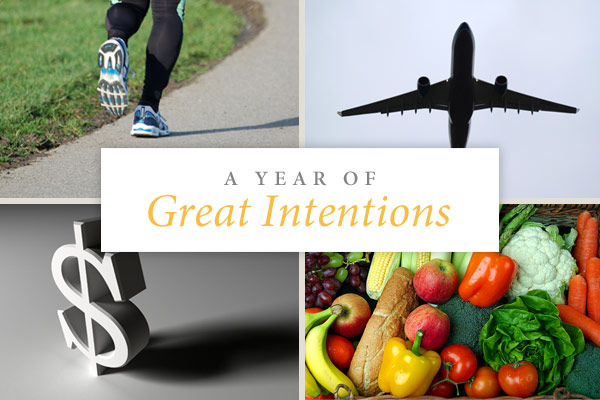 Laura is back on the blog today introducing her new series about new year's intentions and ethical ways to fulfill them. —Julia
We are into the second week of January, and I just returned home from back-to-back yoga classes. This year, I decided for the first time ever to set new year's resolutions. One I actually set a few months back, when I decided I needed to travel to Europe in 2014. I am planning on visiting Tuscany and Rome for two weeks in the fall and already have a couple travel books from my favorite travel author, a list of cities I want to visit, and a preliminary budget. My second resolution is to get into a fitness routine. I tried out yoga a couple times in the summer and really loved it, and then found a great beginner's deal at a yoga studio. I postponed signing up to due to two consecutive foot injuries, but now I am currently acting out this resolution.
As I was thinking about my resolutions in December, I had a question pop into mind. What if one of my resolutions had something to do with fair trade shopping? What if I could make ethical choices when making preparations to fulfill my resolutions?
Recently, my friends and I came up with this concept: that a resolution in the new year can be re-phrased to "being more intentional." That is, whatever we do now is not just an activity but a practice to contribute more to this short life we have. How it benefits us will look differently depending on what the resolution is.
Here is a proposal I have for your new year resolution, or intention: purely to help improve the lives of others through your consumer choices. Below are some of the top American new year's resolutions that we are going to explore more deeply this year.
Get Fit and Lose Weight
Manage Debt
Take a Trip
Eat Healthy Food
Whether your resolution requires buying new exercise gear or an international tour package, we'll suggest ethical options for fulfilling your intention. We can make 2014 a more intentional year and I hope to show you how in the coming months.