This month I came across a couple of really eye-opening stories, one from a journalist who went undercover at a Bangladesh clothing factory, and one about the relationship between outsourced manufacturing and pollution at home. Read on for some thought-provoking material!
I got hired at a Bangladesh sweatshop. Meet my 9-year-old boss – This article reveals the troubling realities in one Bangladesh factory, including several young girls who do not attend school and envision their only future as moving up from thread-trimmers to sewing machine operators. My heart broke to think about this life being real for who knows how many thousands of girls in Bangladesh. (Toronto Star)
China's exports linked to western U.S. air pollution – A new study shows that Chinese factories, often producing goods for American consumption, create pollution that blows across the Pacific to the Western U.S. (CNN)
Interview: Carry Somers of Pachacuti on the Fashion Revolution – This interview with Somers, the founder of a leading fair trade brand in the U.K., illuminates the business side of fair trade and the challenges that arise in the course of making ethical production a reality. Fascinating! (Triple Pundit)
Somers is also heading up Fashion Revolution Day (on April 24, 2014, the one-year anniversary of the Rana Plaza factory collapse in Bangladesh), a movement to "raise awareness of the true cost of fashion, show the world that change is possible, and celebrate all those involved in creating a more sustainable future." This year's theme is "Who Made Your Clothes?" Visit the Fashion Revolution site to see ways to get involved. I'm considering doing one of the videos they suggest!
The History of Fabric Dye – Zady occasionally publishes short articles on the history of various aspects of clothing production, which I find fascinating. This article covers the history of fabric dye, from ancient natural dyes to modern synthetic ones. (Zady)
Ghirardelli: Love is in the label. Make it Fair Trade! – An easy way to support fair trade! This petition asks Ghirardelli to use fair trade certified cocoa in their chocolate. (Global Exchange)
And to end on an uplifting note, via Pinterest: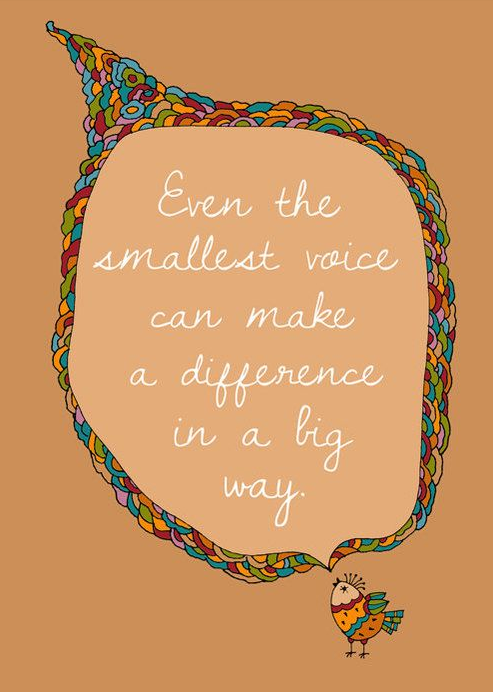 What are you reading this month? We'd love to hear about it in the comments!