I love when I get the opportunity to easily sub out a fair trade purchase for a conventional one, especially when it's something I know I'll need to buy either way. I've had that opportunity several times recently, so I wanted to share my excitement!
1. Birthday cards for coworkers
Our department always recognizes birthdays (as we should, because birthdays are the best!). I had two coworkers with birthdays in January, and I volunteered for card duty so I could get them awesome cards from Sanctuary Spring, carried locally in Indianapolis by Global Gifts.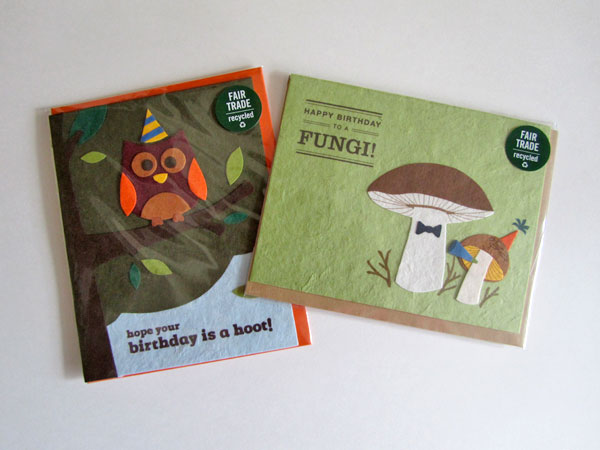 Sanctuary Spring's cards are crafted out of layers of handmade paper. They have fun, contemporary designs that are cool enough for your hipster friends but also appropriate for work or family members.
The cards are made in the Philippines by women who have escaped prostitution, and each card is signed on the back by the woman who made it.
2. Veggies
I've been doing more grocery shopping at Whole Foods lately since my commute now takes me past one. The last two times I've been there I've discovered fair trade certified vegetables that I didn't even know were certifiable.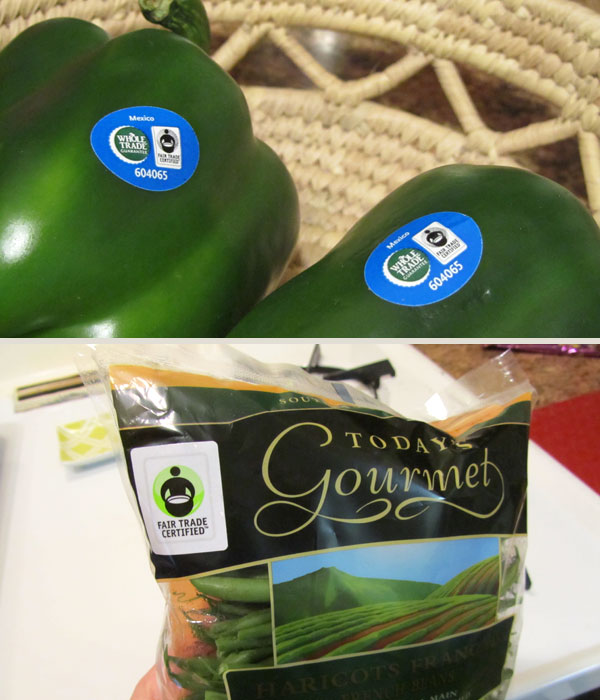 I had never seen fair trade green peppers or green beans before. Both were slightly more expensive than their conventional or organic counterparts, but not prohibitively so. I was excited to be able to spend an extra dollar or two to improve the lives of food producers in disadvantaged situations.
3. Holiday décor
Full disclosure: this was a "want," not a "need." I'm not usually one to hit up a lot of post-Christmas sales, but I was drawn to all of these items before the holidays, and after Christmas they were 75% off at Global Gifts. (Just like regular stores, fair trade stores often have post-Christmas sales where you can get great deals.) I took the deep discount as a sign that we were meant to be together.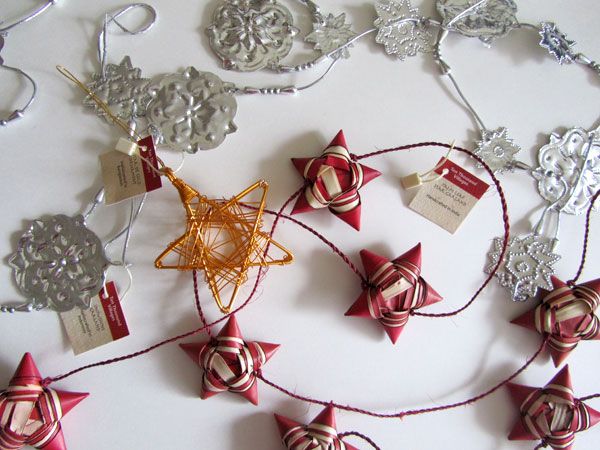 I was originally drawn to the garlands because they could work as year-round décor items, not just during the holidays. Both the red stars and silver "snowflakes" (which I think just look like shapes) would work either in my living room or bedroom.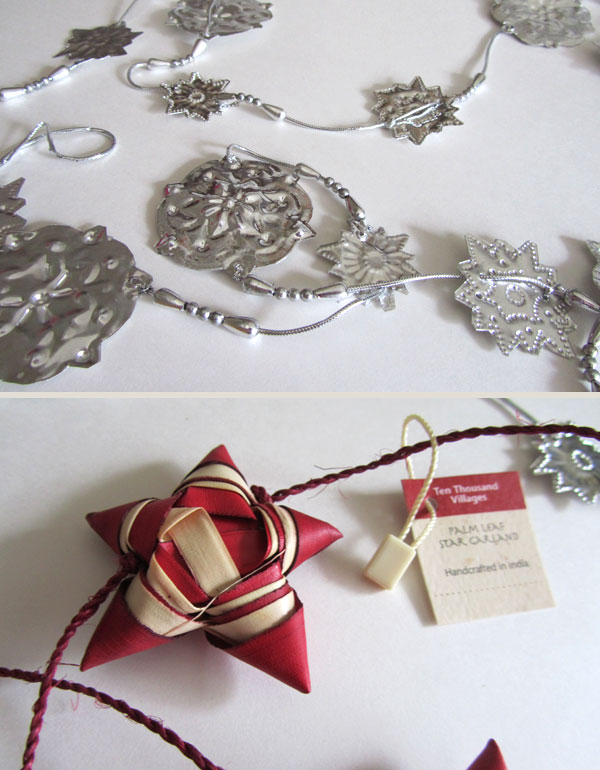 The Palm Leaf Star Garland, handmade by a women's empowerment group in India, is still available on the Ten Thousand Villages website (though not on sale), along with several other cute garland designs. That particular gold star ornament appears to be sold out, but there are eight others left to choose from if you want to plan ahead for next year's tree bling.
If you're local, I highly recommend checking out Global Gifts to see what magical sale items they have left. If you live out in Internet Land, check out the Ten Thousand Villages clearance page instead for discounted gifts and holiday items.
What was your latest ethical purchase? Do you hit up post-Christmas sales for next year's decorations?