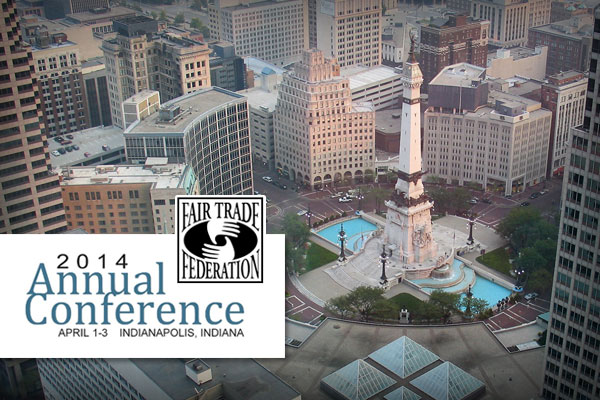 I'm thrilled to be partnering with the Fair Trade Federation to spread the word about their 2014 Annual Conference, being held in my fair city of Indianapolis from April 1-3!
The FTF is a trade association for retailers, wholesalers and other organizations committed to fair trade, and a main focus of the conference is helping its members improve their business. However, the conference would be a valuable and educational experience for any fair trade enthusiast or those who want to learn what fair trade is all about. The conference also includes a documentary film premiere that is open to the public!
For the full details of the conference, read on for a guest post from Suzanne Cotter of the Fair Trade Federation.
Annual Conference on the Business of Fair Trade Coming to Indianapolis!
This year, the Fair Trade Federation (FTF) will be coming to Indianapolis, Indiana April 1-3 to connect entrepreneurs, students, and fair trade lovers at their annual conference on fair trade businesses in North America.
2014 marks 20 years since the organization's official founding and kick-starts a special time for the organization. Along with a number of special guests and an expanded roster of sessions this year, the FTF will host the world premiere of "Connected by Coffee" — a documentary by Stone Hut Studios exploring how coffee farmers and coffee drinkers can work together to create a more just trading world. This highly-anticipated film is a must-see for anyone who loves coffee or who wants to learn more about global trade. The premiere will be held at the Athenaeum Foundation, Inc. Theater on April 2 at 8 pm and is open to the public. Tickets are $8 and will be on sale at Global Gifts locations in Indianapolis and online. (Tickets are FREE for Conference attendees.)
The conference will be held at the Embassy Suites in downtown Indianapolis and also features a Fair Trade Expo, a marketplace of FTF wholesale vendors exhibiting specialty foods, home décor, accessories, clothing, and more. The Expo – held Tuesday, April 1 from 4:45-6:45 and Wednesday, April 2 from 4:00- 6:00 – will give retail buyers an opportunity to make purchases in a relaxed atmosphere and to learn about the special work of FTF members. For more information, local retailers are encouraged to contact info@fairtradefederation.org.
"This is a really exciting year for us," says Renee Bowers, Executive Director of the Fair Trade Federation. "We're recognizing 20 years since FTF's official founding and many decades of our members' hard work.  It's amazing to look back and see how far we've come." The FTF is also looking forward to hosting in Indianapolis for the first time: "there are lots of wonderful fair trade businesses with supportive local communities in Indianapolis, including Imani Workshops, The Village Experience, and a number of Global Gifts store locations."
Learn more & register at www.fairtradefederation.org/conference
Student pricing & complimentary tickets for media with press credentials!
Contact: Renee Bowers, Executive Director, Fair Trade Federation, info@fairtradefederation.org
I'm so proud and excited that Indianapolis is hosting this conference, which has the potential to raise significant awareness about fair trade among the Indy community. Stay tuned for more details as the conference gets closer!
Disclosure: As a media partner I am receiving complimentary access to the conference. I am receiving no other compensation for my promotion of this event.