The Fair Trade Federation Annual Conference in Indianapolis is rapidly approaching! To get all the details on the event, which will be held downtown from April 1-3, I interviewed Suzanne Cotter from the Fair Trade Federation.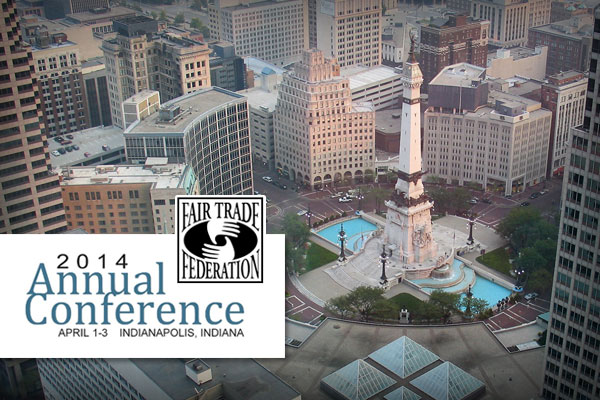 Fair for All: A main focus of the conference is on the business side of fair trade. What would a person who is not part of a fair trade business get out of the conference?
Suzanne Cotter: First and foremost, the Conference is always a wonderful opportunity for those newer to the industry to meet a special group of people who are doing the very best work in fair trade… the kind of direct, in-depth work the Fair Trade Federation stands for! There's really no other gathering of fair trade businesses quite like this and the learning and networking opportunities are boundless. We recommend the Conference to anyone interested in working with artisans in specific regions, staring their own fair trade business one day, working in fair trade product design and development, or anything else that falls under the fair trade umbrella… many Conference attendees this year have had foundational roles in bringing the fair trade movement to the U.S.
Who are some of the speakers and presenters you're excited to have at the conference?
This year we're thrilled for our plenary speaker Jonathan Rosenthal, Executive Director of Cooperative Coffees, consultant at Just Works Consulting, and co-founder of Equal Exchange and Oke USA. We're also excited for the expanded list of sessions for businesses working primarily in agriculture — like the agricultural pricing roundtable which will include Michael Skillicorn of Dean's Beans, Bena Burda of Maggie's Organics, Kim Lamberty of Just Haiti Coffee, Jonathan Rosenthal of Cooperative Coffees, and Stacey Toews of Level Ground Trading. There will also be an expanded list of sessions for retail stores, including a session on building sales with a regular special events schedule with Rich Howard-Willms of Plowsharing Crafts. We're also offering some exciting sessions for wholesalers like developing producer empowerment and involvement with Pushpika Freitas of Marketplace: Handiwork of India.
Tell me about the film premiere of "Connected by Coffee."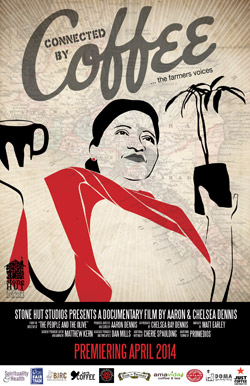 Connected by Coffee is a great documentary film covering the lives of coffee farmers and the benefits of fair trade relationships. The film — by Aaron and Chelsea Dennis of Stone Hut Studios — aims to show how coffee farmers and coffee drinkers can work together to create a more just trading future.
The screening during the Conference will be the world premiere, which is really exciting for us! We'll be hosting it at the Athenaeum Theatre in downtown Indianapolis — a beautiful historic space that's really walkable for locals. The event is open to the public (we'll be selling tickets for $8 at the door) and we'll have a Q&A panel afterwards. This event is another a great opportunity for folks who can't commit to attending the full Conference to meet some of the attendees and participate in he Q&A; we'll have the filmmakers, the FTF Executive Director Renee Bowers, Jonathan Rosenthal of Cooperative Coffees, and Matt Early of Just Coffee.
How is the conference partnering with local Indianapolis fair trade organizations?
We're working closely with local FTF members Global Gifts, Imani Workshops, and The Village Experience to get to know the Indianapolis area a little better and to spread the word about the Conference. Global Gifts in downtown Indianapolis will also be hosting a small reception right before the film screening on April 2nd from 6 – 7:30 pm. All are welcome to attend and browse the store!
Are there discounts on registration? When is the registration deadline?
Yes! Full-time students will receive a significantly discounted registration rate. Anyone can register for the Conference up until Monday evening, March 24th — a week before the Conference starts. You can register online on the FTF website.
Thanks to Suzanne Cotter for sharing the inside scoop on the conference! I know I'm excited to attend and learn more about what makes a fair trade business tick. If you want to know more about the conference, visit the FTF website.
Disclosure: As a media partner I am receiving complimentary access to the conference. I am receiving no other compensation for my promotion of this event.