This post is an expansion on some thoughts I had while gathering links for last month's roundup. In particular, my thoughts were brought on by this pair of pants: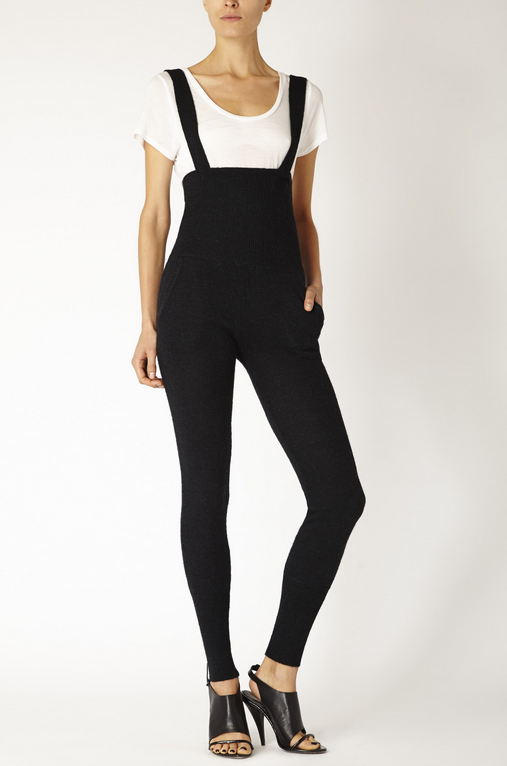 I came across them while perusing the website of new high-fashion, ethical retailer Accompany. High-waisted, skinny-leg black overalls. It takes a moment for the mind to fully grasp. Did I mention they're dry clean only?
My initial question about these pants was whether such a trendy, bizarre, expensive, impractical article of clothing could be truly billed as ethical. The more I thought about it, the more I realized I had bigger underlying questions about the relationship between fashion, trends and ethics.
I have a knee-jerk dislike for overtly trendy items because to me they say "fast fashion." Whether the item was made by a sweatshop or a fair trade co-op, it's still destined to be worn only a few times before being discarded into the waste stream as tastes change. Best case scenario, the item ends up being thrifted and loved by several different owners. On the other hand, it could be part of a shipment of donated castoffs sent to a developing nation, undermining local garment production. Or it could go straight to a landfill while the original purchaser orders this season's latest style, beginning the cycle again.
I realize that this reaction is not necessarily warranted. As an art school grad, I appreciate the artistic aspect of fashion, in the same way that I appreciate the artistry of an expensive meal. And if designers are going to be producing off-the-wall pieces as a matter of creative expression, I'd obviously rather them be made by workers in good conditions than in sweatshops.
I think the root of my disdain for these items and the trendy collections they represent is that I see the ethical shopping movement leaning disproportionately toward fashion-forward, high-end designs targeted to young, affluent, educated women. This makes total sense from a business perspective, because that's the market that is aware of ethical shopping issues, has disposable income, and generally enjoys fashion. I can't fault these companies for knowing their audience. What I can fault them for is playing into the fast-fashion mentality that this audience has learned from the system ethical companies are supposedly trying to alter.
The truth is that very few people can wear items like these, for a variety of reasons. I'd like to see ethical options be available to everyone, from young to old, fashionable to frumpy, skinny to plus-sized, high-income to low-income.
That being said, I have to remind myself that the ethical shopping movement is young and that every new market served is a victory. We've come a long way from every fair trade dress having dragonflies batiked on it. I have faith that eventually there will be options for everyone. We're just not there yet.
What are your thoughts on ethics and trends? I'll be the first to admit that I'm not the most fashionable person, so I'd love to hear the opposing viewpoint from someone who actually enjoys fashion.