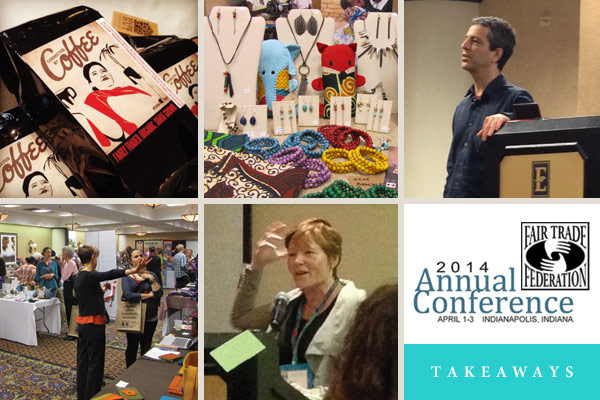 Wow! I had such an amazing time at the Fair Trade Federation conference last week. I got to meet tons of passionate people involved in various aspects of the fair trade movement, and I also learned a lot about the specific details of putting fair trade principles into practice.
Here are some of my major takeaways from the conference:
There are two different schools of thought in the world of fair trade right now. One school of thought says that high standards applied by small businesses (i.e. Equal Exchange coffee grown by small farmers) is the best way to make progress toward a more fair world. The other school of thought says that by loosening standards to allow larger companies to participate (i.e. Great Value brand fair trade coffee at Walmart), we increase volume and thus increase our impact. Both groups have similar goals regarding producer wellbeing but different visions of how to get there.

Determining a "fair price" is a complicated process! It takes a lot of effort and dedication to work with artisan groups, many of whom don't have basic accounting skills or tools, to determine their cost of materials, labor costs and overhead to factor into what the fair price for their product should be. Fair traders are committed to doing this legwork to get the price right.

Fair traders are extremely considerate about respecting cultural identity and partnering with artisans in an equal way. They do everything they can to avoid condescending to artisans or fostering dependency. Their goal is to give artisans the freedom to determine their own destinies.

One big question fair traders ask is, "How do we measure our impact on artisan communities?" Many speakers shared about the dramatic improvements in self-worth and confidence that they saw in their artisans from participating in fair trade. However there is now a desire within the movement to go beyond those qualitative improvements and back them up with quantified results such as the percentage of artisans' children who are in school and the frequency of their meals.
I plan to expand on some of these takeaways and others in later posts. In the meantime, be sure to check out our gallery of photos from the exhibit hall below or on Facebook—there were oodles of gorgeous and interesting fair trade products on display!
Disclosure: As a media partner I received complimentary access to the conference and one of the swag bags given to all attendees, which contained some fair trade product samples. I received no other compensation for my promotion of this event.