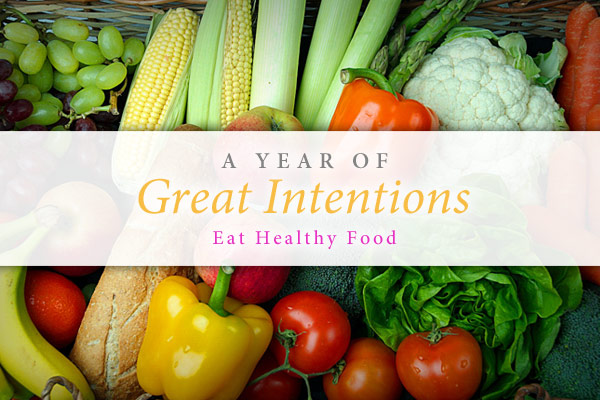 Eating healthily has so many great benefits. When I have cut out processed foods, soda, and sweets and replaced it all with nutrient-rich grains, vegetables and fruits, I have slept better, become more alert and energized, and even noticed more optimistic thoughts and feelings. Based on this personal experience, along with my college nutrition class and studies I have read, I think I'm correct in saying that there are some great improvements to the biological and chemical activities of my body when I am eating well.
There are a few steps to properly change what you eat. You can talk to your doctor or nutritionist, read a couple good cookbooks, and write a meal plan. Personally, I hope to take this a step or two further by choosing organically produced food as well as ethically produced food! When it comes to healthy and fair trade food, my goal is to always pick fair trade when there is an option for it. If you would like to  join me in intentionally changing your food purchases to reflect your ethical values, start off small and as easily as possible. You might consider signing up to have a pre-selected package of healthy, fair trade – and affordable – items delivered right to your door.
Here are my tips for ethical, healthy food shopping:
Browse through the natural/organic section of your grocery store and look for fair trade certified nuts, grains, herbs, spices, and tea. These items may be spread out throughout the regular aisles, too.
Check out your local organic/health food store, fair trade shop, or Whole Foods Market.
Buy local produce, dairy, and meat.
Hit the web and shop online through such retailers as Good Guide or through Fair Trade USA's Products & Partners.
The market for fair trade food is still quite small, but it is growing – as is consumer demand for it, according to this article by Fair Trade USA that has studied this growth in certain types of stores. Finally, if you'd like to join the movement of buying healthy, ethically-produced food, please review our Certifications page before you head to the market, so you know which labels to look for.
What stores have you found fair trade food in? We would love to hear what you're finding in stores near you. Please comment below!
Thank you so much for following the A Year of Great Intentions blog series. I hope I have helped you reimagine how you can be intentional in shopping, purely to help improve the lives of others through your consumer choices. I wish you a truly wonderful Year of Great Intentions!