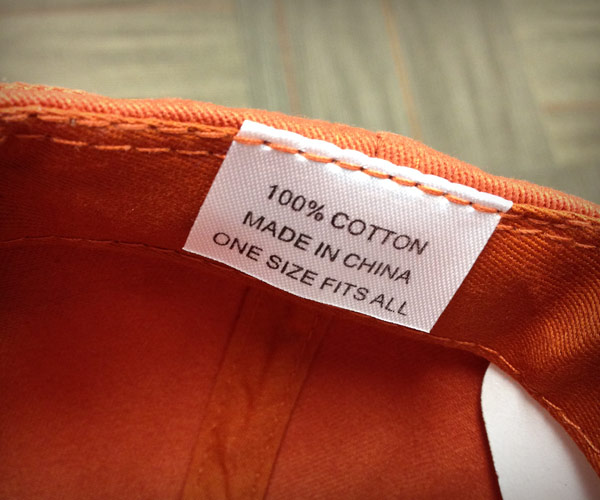 Over the years, I've defined a fairly rigorous ethical shopping process for my personal purchases. I do a lot of research into retailers' labor practices; I look for used, recycled and made-in-USA options; and oftentimes I decide I don't need what I'm shopping for at all. But I've realized that this process does not really carry over when I make purchases at work.
As a graphic designer, paper is one of the most common things I buy, and I do look for recycled and made-in-USA options. However, when it comes to other types of purchases, I tend to go with whatever my company has historically done. For example, my company has an event in May every year where we hand out baseball hats. This year the ordering of the hats fell to me, and I ordered them the same way we we've ordered them every year, which means they were custom-sewn in China.
There were many things I could have done to make sure our hat order was as ethical as possible:
I could have asked our vendor what she knew about the factory where the hats are produced.
I could have found pricing for hats made in the USA (though I had been informed that domestically-produced hats are much more expensive).
I could have looked at the hat options on Ethix Merch, a site I've known about for years that specializes in ethical promotional items like pens and branded apparel.
Why didn't I do any of these things? One reason is that it can be scary to challenge the status quo, especially if you are suggesting that your company's current way of doing things is unethical. It gets even trickier when you can't prove their practices are unethical, even if in your opinion it's highly likely that they are. I can't prove that the hats we order from China are made in a sweatshop. But even investigating it would raise eyebrows.
I'm betting that a lot of individuals care on a personal level about human rights and the environment but don't take action through their jobs. Raising questions of ethics at work is definitely a risk and, depending on the company culture, could cost someone their job. I've seen friends struggle through long-term unemployment, so I find it hard to blame anyone for not speaking up. The question is: how do we start to make it OK for ethics to be part of conversations and decisions in the workplace? What positive change could we realize if it wasn't a risk for people to ask challenging questions?
We need to shift to a culture where the ethics of a decision or purchase can be weighed equally alongside other factors like cost and quality. Will the most ethical choice always win? Nope. But sometimes it would, and just having that conversation gives people permission to really think about the ethics and values of their decisions.
Have you experienced anything like this at your job? Do you find it difficult to live your values at work?