I'm excited to introduce you to Jessica, author of the blog Notes From A Thoughtful Life! Jessica does an amazing job of providing practical tips that make ethical shopping a realistic pursuit, not just an idealistic dream.

Fair for All: Describe the focus of your blog.
Jessica: Notes From A Thoughtful Life is a blog about embracing our everyday normal life and making it count. I love that quote by mother Teresa that says "live simply so that others may simply live". The idea that what we do, how we live, is important and that we can use it to bring life to others is something I love. So I write about fair trade, living thoughtfully and really, just grace, because I am still learning how to live what I write about!
Why do you choose to write about these topics? What motivates you to pursue an ethical lifestyle?
I first learned about sweatshops and unethical labor in the clothing industry years ago and slowly started changing some of my buying habits since then but honestly, I had a hard time knowing where to start. The more I learned the more I changed and the more I realized that if I was having a difficult time figuring out where to start, then maybe others were too. That inspired me to write the blog, especially The Ethical List, a list I keep of all the fair and ethical companies I have discovered. Knowing that the clothes and other things I buy, like coffee and such, is made by people who are paid fairly is really enough motivation in an of itself!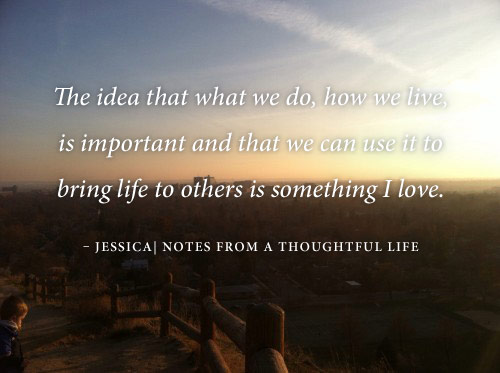 What makes a product or company ethical to you? When you're making a purchase or deciding what to write about, what principles or criteria guide your decision?
When I shop online I almost always read the company's about page and find out what I can about their sourcing policies. It's important to me that companies are clear and honest about how they create and source their products. I also Google them with "sweatshop" or "labor violations" in the search terms to see if they actually do what they say they do. I buy secondhand and used whenever possible. Most importantly, I try not to be too hardcore and strict about ethical guidelines because in reality I know I won't be able to always buy fair trade or thrift but I do want to make the best decision I can based on my options. If you can't afford or find a fair and ethical product, second best is okay too. Target and a few other major companies, while not winning any awards, are at least attempting to maintain a more ethical supply chain.
What are your top 3 favorite ethical shopping brands or websites?
Oh my gosh, so many good ones!  Everlane, for their reasonably priced and super comfy tees. Ten Thousand Villages, because they are the first fair trade store I ever shopped at way back when I was a little girl. I still love that store. And  I have many things from that store, even from when I was a little girl. And Shea Moisture, for having some of the best smelling ethically-sourced bar soap ever.
Here are some recent posts from Notes From A Thoughtful Life:
For more ethical blog recommendations, check out the rest of our Meet an Ethical Blogger series or visit the Resources page.