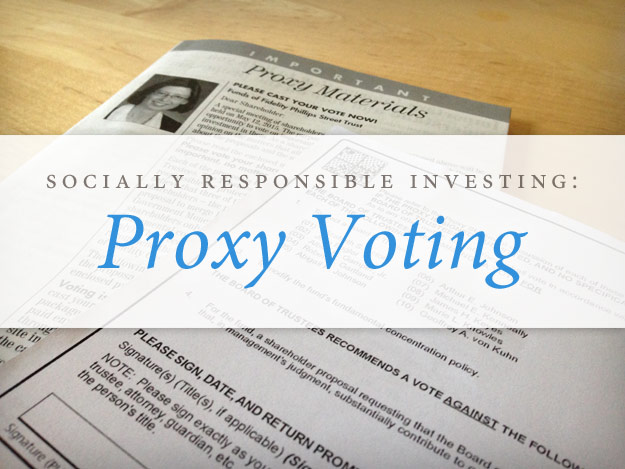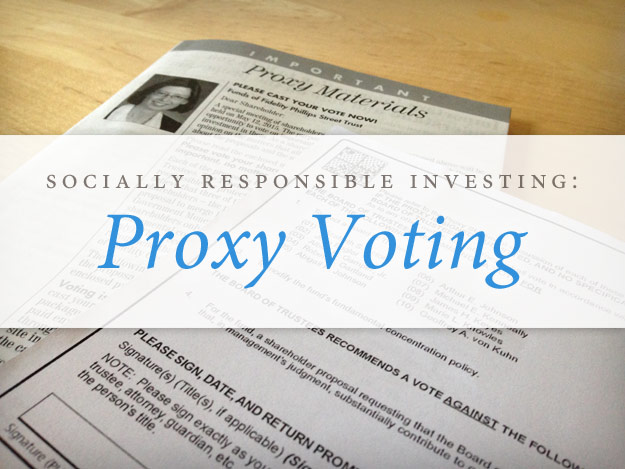 Last week I received proxy voting materials in the mail for one of the funds my 401k is invested in. If you're like me, when you get a big booklet filled with fine print about finance, you're not too excited to read it. However, I knew that a proxy statement deserves attention, because proxy voting is one of the ways shareholders can have a direct impact on how their invested money is used.
What is a proxy statement, you ask? It's a booklet containing various proposals for shareholders to vote on, and it comes with a card that allows you to cast your vote. There were three proposals on my proxy card (with my initial reactions):
Elect a board of trustees for the fund ("Sure!")
Change the focus of the fund from financial investments to government investments ("Why not?")
Require the board to institute procedures to prevent holding investments in companies that substantially contribute to genocide or crimes against humanity ("This is what I expect you do be doing anyway, so yes!")
Obviously the last proposal caught my attention. It was submitted by a group of concerned shareholders, and it's completely in the spirit of what socially responsible investing is about. In several places in the proxy statement and on the card itself, the company listed the existing board's recommendations for how shareholders should vote. I found it discouraging (but not surprising) is that the board recommended voting against the "don't fund genocide" proposal.
The proxy statement contained the board's justification for its recommendations. I approached it with an open mind, hoping they at least had a good reason for opposing the proposal, but their justification was weak. They basically said that the proposal would limit what the fund can invest in (duh), that they already comply with investment sanctions that the U.S. government places on other countries, and that shareholders can take their money elsewhere if they have a problem with how the fund is managed.
I took issue with their justification because:
Taking a few companies off the huge list of potential investments is not going to hinder the fund's performance.
Sanctions are incredibly political. The U.S. government could avoid putting sanctions on a problematic government for a myriad of reasons. Whether it's illegal to invest in a company controlled by a certain government shouldn't be your only criteria for determining if that's what your shareholders would want you to do.
I don't actually have the option of easily putting this money elsewhere. This fund is a holding fund where my money goes to sit until I use it to buy the socially responsible funds I like. I made no active choice to use this fund and could only avoid it by sending my money straight to conventional funds (no thanks) or by not using my company's 401k.
They didn't even talk about whether adding new verification procedures would be inefficient or unreliable, which in my opinion would have been way more legitimate concerns than the arguments they did use. Their whole justification was only three short paragraphs. Hey, if you're not going to go to the effort of writing a convincing rebuttal, I'm going to vote for the thing that sounds humane. I put an emphatic X voting for the procedures to avoid investing in genocide.
If you've received a proxy statement and are putting off looking at it, here are a couple of factoids from my experience to encourage you (your situation may vary based on what funds you're voting on and how many proposals they have):
The proxy statement booklet I got was written in very easy-to-understand language. It looked daunting, but it wasn't hard to read.
It only took me about 30-45 minutes to read and fully understand all of the proposals. If I had just focused on the one I really cared about, it would have taken 10 minutes tops. (I read all of them to make sure they weren't sneaking anything in, so if you're suspicious like me, set aside a little time.)
There's a reason companies are required to have shareholders vote on certain things. It's so you get a voice in how your money is managed! Using your voice is key to holding companies accountable and showing them you care more about just the bottom line.
The unfortunate truth is that the majority of shareholders will not take the time to read the proxy statement and will blindly vote in line with the recommendations printed on the card. But even if the "don't fund genocide" proposal doesn't pass, I at least want to show my financial company that someone is paying attention. One lesson learned from the financial crisis is that financial firms don't do any due diligence they aren't legally required to do. Shareholders can help hold companies accountable on areas that regulations don't cover, and proxy voting is one way to do that.
Learn more about the anti-genocide shareholder campaign at Investors Against Genocide.