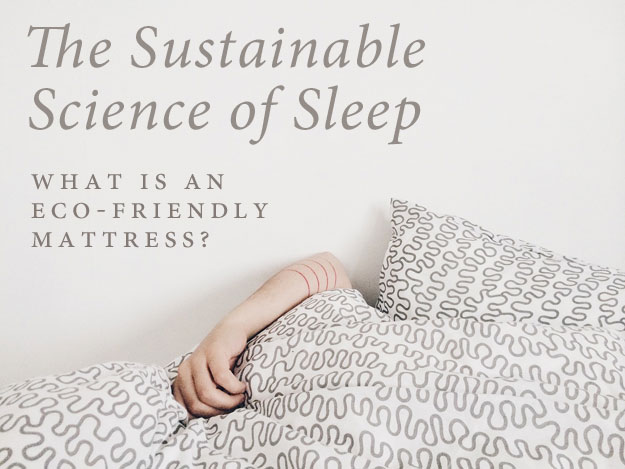 Lately I feel like the quality of my sleep has been lacking. One factor might be that I've been keeping my apartment at a subtropical 78 degrees (which doesn't sound like it should be too hot to sleep but maybe it is), but I'm sure the larger culprit is my roughly 25 year old mattress. I've been sleeping on it for 17 years, but it had a life before that in my parents' guest room. It's fairly hard, a little saggy, and lacks any kind of cozy cushioning to lull me into dreamland.
I've been trying to hold out on buying a new mattress until I move into a house so I could keep this one as a guest bed. As far as I know, mattresses are not really recycled unless your city or state has a special program (mine don't), so I was trying to avoid it ending up in a landfill while it still had some level of usefulness left to it. But alas, my recent restless nights have driven me to begin the search regardless.
Here are the main questions I hope to answer during my mattress hunt:
How can I dispose of my current mattress sustainably?
Is there a mattress that has a reduced impact on the environment while still being supportive and comfortable?
Can I justify the additional cost of a sustainable mattress?
You may be wondering what's so unsustainable about a regular mattress. In my initial research I've found there are two main concerns with conventional mattresses:
1. Made primarily of unsustainable materials such as petroleum-based fabrics and foams
I can get on board with this concern pretty easily. I have no trouble believing there's something else comfortable for me to sleep on other than liquid dinosaurs extruded into foam. Mattresses marketed as eco-friendly tend to be made either partially or completely from natural materials such as organic cotton, hemp, latex or wool. However, this in-depth article on Triple Pundit details how natural materials are not without their own environmental concerns.
2. Contain toxic components such as flame-retardant chemicals and VOC-emitting foam
Many eco-friendly mattress manufacturers tout the fact that their mattresses are treated with alternative nontoxic flame retardants or don't require flame retardants because of naturally fire-resistant materials. However, I'm having a hard time finding information to substantiate the danger of most modern flame retardants anywhere other than green mattress manufacturer websites. Some PBDEs, a type of flame retardant I did find incriminating information about, have been banned by 11 states, so I would like to avoid that particular type. I found several articles discussing concern about VOCs (volatile organic compounds) emitted by foam in crib mattresses, which presumably would be true of foam in adult mattresses as well.
Because of the significantly higher cost of a sustainable mattress, I'm conducting additional research on the severity of these issues and whether the eco-friendly products on the market actually have a reduced impact on the environment.
I'm just beginning my search, and I'm anticipating this being a rather lengthy process, but I'll keep you posted on my progress. Maybe if I dream about buying a new mattress it will be almost as comfortable as the real thing…