This September is shaping up to be a secondhand-centric month. Not only is my very first clothing swap event tomorrow (!), but the Ethical Writers Coalition is leading a Secondhand Challenge. The EWC challenges you to rethink your attitudes toward secondhand shopping and begin to think secondhand first.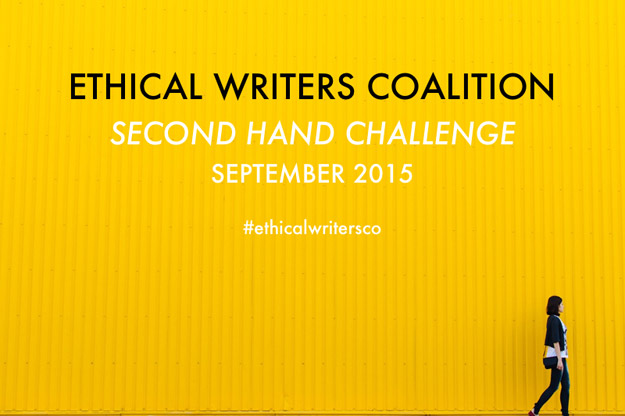 Using secondhand items is ethical for a variety of reasons:
It saves usable items from the landfill
It doesn't use the energy and materials required to produce new items
It opposes cultural pressure to buy everything new
It honors the people who make items by not treating their work as disposable
Secondhand items can be found at thrift shops and consignment stores or alternative channels like clothing swaps, Craigslist, Freecycle, neighborhood message boards, Yerdle, and more.
The flip side of the coin of secondhand shopping is putting our own unwanted items out into the secondhand market. This can be an ethical challenge in itself. According to the documentary The True Cost, only 10% of the clothes people donate to charity or thrift stores gets sold. The rest ends up in landfills or is shipped to developing countries where the flood of secondhand clothing can undermine local industry. That's why the EWC challenge also includes an emphasis on finding the right channels for discarding your unwanted things (such as the alternative channels listed above).
Here are a few of my favorite posts collected by the EWC's Secondhand Challenge so far:
Thrift shopping is how I get most things I need, but I'm excited to take another step in supporting secondhand culture with the clothing swap tomorrow. If you're in the Indy area and haven't signed up yet, join us!