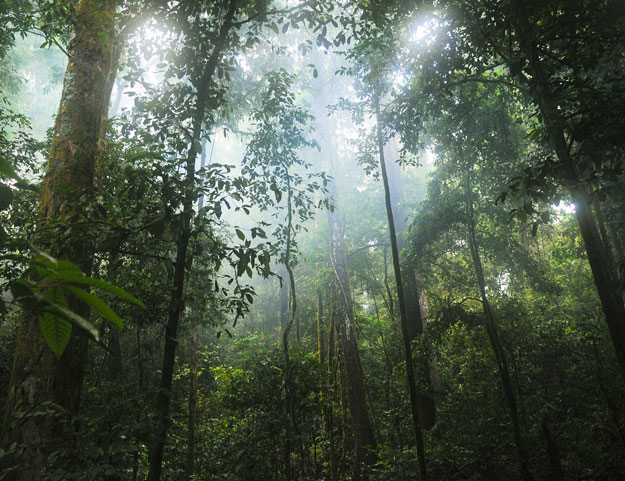 I've danced around educating myself about palm oil for several months. I know it presents a great threat to the rainforest, but as I'm not primarily a wildlife or biodiversity advocate, I thought I might be able to file it away as someone else's problem. Sometimes you just don't want to take on one more cause.
However, as several articles rolled out recently calling into question the validity of the Roundtable for Sustainable Palm Oil (RSPO), I was drawn to learn more. Seeking an expert, I interviewed fellow Ethical Writers Coalition member Magdalena Antuña, editor and founder of Selva Beat magazine. An avid advocate for changes in the palm-oil industry, Magdalena publishes content focused on ethical and palm-oil-free living.
Through the interview, I learned several shocking facts. First of all, palm oil is not a threat to the rainforest alone: Through the destruction of peatlands, palm oil agriculture emits thousands of tons of carbon dioxide into the atmosphere, making it a significant climate change offender. Second, palm plantations have been identified as sites of human trafficking, and plantations often grab land from vulnerable populations in order to expand. Third, palm oil can legally go by over 200 names on product packaging, making it difficult to avoid.
I'm now convinced that consumers (myself included) can no longer ignore the abuses of the palm oil industry, and we have the responsibility and power to demand better environmental and social practices. Read on for my full interview with Magdalena to learn more about the perils of palm oil as well as how you can help.
Fair for All: Where does palm oil come from?
Magdalena Antuña: Palm oil is an edible vegetable oil, extracted from the fruit which grows on African oil palm trees. As the name denotes, these trees are native to Africa but are primarily grown in Indonesia and Malaysia. In fact, oil palm trees can only be grown ten degrees North or South of the equator, a band of Earth that scientists have deemed incredibly bio-rich, rife with endemic and/or endangered species. So, though SE Asia is the primary market for the production of palm-oil, we see similar issues emerging in Africa and South America where this industry is beginning to pick up considerable momentum.
How is palm oil related to deforestation? Are there other issues with palm oil in addition to deforestation?
Palm oil is directly tied to deforestation because, like most vegetable oils, it must be farmed in order to be extracted for use. The global demand for this oil is so incredibly high that millions of hectares of land—which, in this region happens to be primarily rainforest—must be cleared and/or primed for monoculture plantations.
But not all of this land is free of human life. Another issue we see with palm-oil is land grabs, which rob indigenous peoples of their only homes. Though palm-oil creates many jobs, the labor standards—much like those in sweat shops—on plantations can be frighteningly low. Our rapid consumption stresses the system, in turn asking more and more of plantation workers. It's also important to remember that while this booming industry means big money, this wealth is not necessarily well distributed. Previously, we've seen many cases where in laborers are lured from other cities and countries, promised good work, and fooled into what is essentially indentured servitude—practically starved and barred from communication with their loved ones.
Deforestation gets a lot of attention for two reasons: endangered wildlife and global warming. Many areas where oil palm plantations can be found—in Africa and South America, too—were originally suitable habitat for some of the world's most beloved animals: endangered orangutans, tigers, pangolins, sun bears, chimpanzees, the list goes on. Today, we watch the Leuser Ecosytem dwindle away, primarily at the hands of conflict palm.
Because of global warming, we also have to monitor peatland destruction. Peatlands hold far more carbon than your average rainforest (up to 28x more) and when you cut down just a hectare, thousands of tons of carbon dioxide are released into the atmosphere. The recent fires that devastated Indonesia, caused largely by irresponsible paper and palm oil companies illegally clearing land, created more greenhouse emissions in just three weeks than all of Germany does in one whole year.
The oil itself is not evil, but our gluttonous consumption and reliance on it has, no doubt, made palm-oil one of the largest environmental and human rights issues the world has ever seen.
What everyday products contain palm oil?
Our rule of thumb is that if it's packaged, there's a strong possibility that product contains palm-oil.
Anything from the cereal you eat to the almond milk you drink to the shampoo with which you wash your hair. Toothpaste, easy spread butter, foundation and vegan products, too. Palm-oil is extremely versatile, so it can be the basis for a lot of other ingredients like glycerin, sodium lauryl sulfate, cetearyl alcohol, etc.
Here's a full list of the 200+ names palm-oil can legally go by in stores.
You've written before about your disapproval of the RSPO and the responsible palm oil certification process. Are there ways a consumer can know for sure that the palm oil in a certain product is truly responsible?
In light of several recent 'bombshell' articles regarding the RSPO's credibility, I can't say with confidence that there's one fool-proof way for consumers to identify ethical palm-oil. This article is a great primer on how the supply chains work, as well as, how to speak with companies about their usage.
Put very simply, the word sustainability means little to nothing. Grill companies on their ability to trace their palm-oil from plantation to shelf. If a company says they use certified sustainable palm-oil, dig a little further. Traceability is key. No deforestation and peatland protection agreements score high, as well.
The world does need a governing body, like the RSPO or POIG, but it is similarly important that we remain critical of that body's ability to police these practices effectively.
What are a few of your favorite palm oil-free products?
That's actually kind of tough! I have a lot to choose from but perhaps my top three right now would be:
Earthpaste Toothpaste in Peppermint
Meow Meow Tweet's Beer Shampoo Bar
Axiology lipstick in Elusive – perfect for fall!
What can the average person do to help the palm oil situation?
I believe passionately that consumers can make a difference regarding the palm-oil problem. It is genuinely ridiculous that the entire world should rely on the forests of only a handful of countries. Our view is that all palm-oil should be traceable, conflict-free, and ethically produced. But, that doesn't mean that we should still have to eat and use it in everything.
We absolutely can, as a society, lessen our reliance on palm-oil. Begin by mitigating your consumption of packaged and processed foods. Fall in love with whole foods, local and organic produce. Rally with your community against irresponsible brands, urging them to fulfill their basic obligation to the planet. Start a Palm-Oil Action Team in your hometown via the Rainforest Action Network. Get into the habit of writing just one e-mail a night before you go to sleep.
It seems daunting, I know. But there will always be someone telling you that your contribution isn't big enough to make a difference and you must remember that they will also say that to the next person, the person after that, and so on. There are hundreds of thousands of people out there that share your passion, you just have to find them.
___________________
Thanks to Magdalena for sharing her knowledge and passion! For more information about palm oil advocacy and palm-oil-free living, check out Selva Beat.