Remember when I announced I was working a new, secret, scary, exciting project? I'm pumped to finally eliminate "secret" from that list!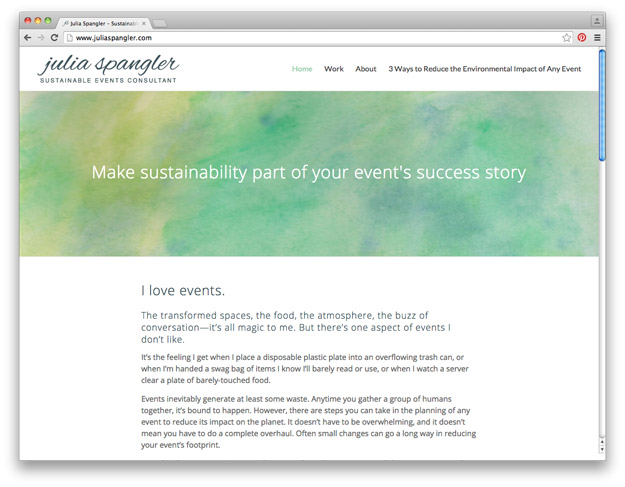 I'm thrilled to share with you guys that I am starting my own sustainable events consulting business. The impetus for this idea came from several sources—my own love of events, my event experience from my day job, and the overall cultural shift in my generation toward valuing experiences more than possessions. As sustainability continues to become a more urgent global issue, event attendees (especially millennials) will demand that experiences are planned responsibly. Some brands are already doing this fantastically, but other companies and organizations need help to turn those sustainable ideals into reality. That's where I come in!
A lot of the advice I offer is inspired by topics I've written about here on Fair for All. One person's lifestyle changes at home can make a difference, but the impact is awesomely magnified at an event attended by hundreds of people!
If you're interested in learning more, check out my official bizness website at www.juliaspangler.com. And of course, I'll be continuing to plan sustainable events for the blog, including our next style swap on Jan. 20. Posting may take a downtick in frequency as I shift focus to the business, but I also plan to share a lot of the new things I'm learning with you!
Thanks to everyone who knew about this endeavor for your support so far; you've been awesome. And if you're in the process planning a festival, fundraiser, bingo night or bar mitzvah, drop me a line—I'd love to help make it more sustainable!