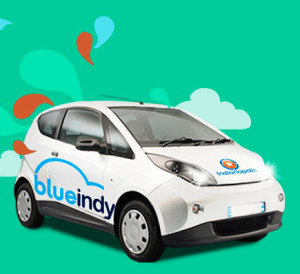 For a couple of months I've been wanting to try the BlueIndy electric car sharing service in Indianapolis. There's a station about half a mile from my apartment, and I was curious about the cars and what the overall user experience is like. I also wanted to address a lingering question I've had since the system appeared: Who is BlueIndy for?
As a car owner whose daily commute is outside the BlueIndy range, I figured I was not the primary target market. However, the BlueIndy website touts free, guaranteed parking as one of its benefits, so I wondered if would BlueIndy be convenient for occasional trips downtown. Every Indianapolis urbanite knows the frustration of arriving downtown to unexpectedly find the cheapest parking garages plastered with "$20 Event Parking" signs. Could BlueIndy be a way to avoid this unpleasant surprise?
With the warmer weather this past weekend, I thought Sunday would be a good day to try it out for a trip downtown for lunch, so I logged on to the BlueIndy website to start planning my excursion. My plan was to pick up a BlueIndy car from the SoBro station, drive downtown and deposit the car at one of the many downtown stations, eat lunch, then pick up another BlueIndy car and return to the SoBro station. I quickly learned that this plan would be inconvenient to the point of impossibility due to two major flaws in the BlueIndy system.
Two major flaws
According to the membership description pages on the BlueIndy website, all BlueIndy memberships (including one-day memberships) must begin at an Enrollment Kiosk.* This in itself seems reasonable, since you need to verify that you're a licensed driver before using the cars. However, as of the date of this post, there are only three operational Enrollment Kiosks in the city out of dozens of stations, with only two more under construction. Standard BlueIndy stations run along the north-south corridor as far south as the University of Indianapolis and as far north as 63rd Street, with some popping out to the east and west near downtown. Despite this broad coverage area, two of the Enrollment Kiosks are located downtown within two blocks of each other, and the third is located at College & Broad Ripple Ave.
*In the more deeply-buried FAQ, the website says that monthly and yearly memberships can be purchased through the website or mobile app, but there was no clarification on whether the user would still need to visit an Enrollment Kiosk to obtain their membership card.
It would take me about an hour to walk to the Broad Ripple kiosk—technically doable, but hardly convenient. It would only take about 15 minutes to ride my bike there, though, which seems like a reasonable alternative except for the fact that there is no bike parking provided as part of any BlueIndy stations. There may be nearby bike parking or there may not; it is in no way guaranteed. This seems like a huge missed opportunity, as including bike parking as a fundamental part of each station would make the system accessible to a much broader geographic area.
Who is BlueIndy for?
Because of the Enrollment Kiosk requirement, it seems apparent that BlueIndy is not really intended for one-day use. The inconvenience of getting to an Enrollment Kiosk would far outweigh the guaranteed parking benefit in most cases.
The Enrollment Kiosk requirement also begs the question, is the system intended for people who don't own cars? If it is, how are these users supposed to get to an Enrollment Kiosk to sign up? Yearly membership cards are sent out via snail mail according to the BlueIndy website, so once you have your card you could use any station for your first trip, but a yearly membership is a big commitment if you haven't even had a chance to try out the system.
Despite these flaws (which I hope the city addresses soon), here are some groups that I think can actually benefit from BlueIndy as it exists today:
Partners or families who own only one car, particularly if one working adult can use BlueIndy for their commute
Non-car owners who have access to an Enrollment Kiosk
Tourists staying downtown could use one-day memberships to visit other "notable" neighborhoods like Irvington, Broad Ripple or Fountain Square
College students
Electric car owners can use BlueIndy stations to charge their own vehicles
Do I still think BlueIndy is a valid mode of green transportation? Yes. My favorite thing about BlueIndy, now that I realize I can't practically use it myself, is the charging service it offers to electric car owners, as this could increase the adoption rate of all-electric vehicles in the city. Is it a perfect system? Far from it. Hopefully as the program matures it will find its niche and clarify its marketing to reach the people who can truly benefit.