Sometimes it seems like you can't swing a dead cat without hitting a new subscription box brand. (Is this an expression other people use or is my family just morbid?) I'm usually not that into the subscription box format because I'm so particular about the ethics of the products and companies I support. However, I recently connected with Julie Overby, the co-founder of bonJOY, a brand that bills itself as a "little box of good." I was excited to learn that their product sourcing criteria are as stringent as mine—and in fact go further by seeking out brands that specifically support women and combat human trafficking. I was immediately enamored with the company's mission and Julie's infectiously joyful spirit, so I asked her to share some background about bonJOY and what makes it different from other boxes.
Fair for All: Subscription boxes are a big trend right now. What's the appeal?
Julie Overby: I think it's the surprise factor! You choose a subscription box brand that's a fit with your lifestyle, and leave it to them to curate a selection of items you might never otherwise discover and voila, it arrives on your doorstep. It's a bit of Christmas morning all throughout the year!
Why did you start bonJOY?
Esther & I met while volunteering at a safe house for trafficking survivors, and eventually started discovering and sending each other these products we found from brands that had a heart for survivors too. We found that the subscription box concept worked beautifully as a way of sharing our finds with the world and building support for these amazing brands and the organizations they work with. In light of a such a dark and evil wrong (trafficking) in the world, we wanted to highlight the joy and restoration that these anti-trafficking organizations are making possible for women who have survived such a horrific thing.
What makes bonJOY different from other subscription boxes?
The very specific cause focus. There are other (wonderful!) fair trade and cause-related boxes out there, but to my knowledge, we're the only one that focuses specifically on a) brands making a positive impact for women, b) disadvantaged or at-risk women, and c) trafficking-specific causes. We don't promote an amazing value because we're actually paying our partners their full wholesale rates for their products – we want to make sure each box creates the maximum impact. (Many other boxes get products for free or at a greatly reduced cost.) More things you might not guess about us here!
Why the focus on human trafficking?
It's something both of us are passionate about, but we're not lawyers, doctors, or ex-SEALs, so we're not out there busting down doors and saving these girls. It's kind of beautiful how it worked out, but we're able to take our abilities and interests and support the people doing just that through building business for these brands. As awareness about the issue grows (and it's grown a LOT in the past five years), people are looking more and more for ways that they can respond and join in the fight, and we think this is one way to do just that. Plus, I'm crazy about being able to tell a story with my purchases – I love having things in my home and closet that I can't help but talk about. Some of the pieces we feature are even signed by the women who made them, which I think is so awe-inspiring.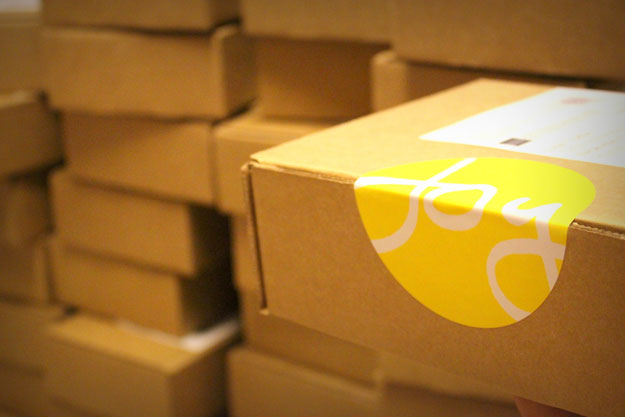 What criteria do products have to meet to be included in a bonJOY box?
They've got to be made ethically, number one. We also want them to be creating some kind of positive impact, whether that's a donation to an organization somewhere or creating employment for survivors trying to get back on their feet. For consumable products like beauty and candles, that sort of thing, we also do the research to make sure ingredients are pure and good for you and the earth. Bonus points when a product is eco-friendly.
Tell me about your joy philosophy. (I'm kind of in love with it.)
We think of joy as a weapon against the darkness. When these survivors light up the world by smiling with abandon… wow. Talk about inspiration. As humans and consumers, we want to fight for pervasive joy – in the way we live and interact, in the products we use, in the causes we support. It's simple, but it can be a challenge. Joy is easy to chase though – it doesn't lie. :-) You can read more about our perspective and our core values in this blog post.
What's your favorite item that has been included in a bonJOY box?
Oh boy, so many! Soap from the Hope Soap Project (loooove their bars), facial wipes from Rooted Beauty (so perfect for travelling and so affordable — actually, Target just picked them up!), and this simple yet gorgeous necklace from Purpose Jewelry (hand-signed by a survivor and everyday kind of wearable). You can see everything we've featured before here.
What's next for bonJOY?
Well, we just launched a new subscription option, so instead of just shipping quarterly like we did last year, we've added a monthly box on top of that. It's $35/month + free shipping, and I think it's a great deal if you love discovery and want to join us in creating consistent impact. We're also partnering with four key anti-trafficking organizations this year to give $1 from each box and inviting subscribers to add a donation on top of that. A21 is our first Give-Back Partner. Really excited about that one and looking forward to seeing the kind of impact we can make together. Beyond that, we're looking at some really exciting collaborations and themed boxes later in the year, so stay tuned! We've got lots of ideas, just need the time and womanpower to bring them to life. :-)
–––––––––––
If you decide to order a box of ethical awesomeness from bonJOY, use coupon code FAIRFORALL to get $2 off.
Find out more about bonJOY at bonjoybox.com or on social media; they're @bonjoybox on Facebook, Twitter and Instagram.