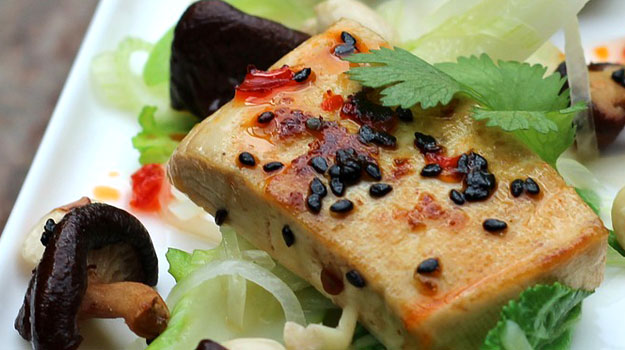 Part of my effort to lessen my environmental footprint includes reducing the amount of meat in my diet. Eating mostly vegetarian food has become second-nature to me, and I have several vegetarian friends, so it always surprises me a little when restaurants and caterers don't offer satisfactory vegetarian or vegan options. This is particularly a problem at events, which generally offer a more limited menu overall.
Once I was at a conference in college with my vegetarian roommate. The conference was being hosted at a mid-range hotel in a suburb of Indianapolis, and the dinner served was a meat lasagna. When my roommate informed the server she was vegetarian, he went to the kitchen to see what he could do and returned a while later with a single tomato that appeared to have been stuffed with a little cheese and baked. While the cooks on duty likely did their best to improvise in a situation they hadn't been prepared for, the root of the issue is that food service professionals, especially in the hospitality industry, should be prepared to encounter vegetarians and vegans and equipped to provide them with nutritious alternatives to animal ingredients.
On my sustainable events blog, I've published a guide to vegetarian and vegan protein substitutes that caterers can use to better prepare themselves to serve plant-based meals. (There's even a nifty chart!) Vegetarians and vegans get hungry too, so accommodating them means more than simply removing any "offending" ingredients from their plates. By focusing on substitution rather than elimination, caterers can create more successful veggie dishes and have more satisfied guests!
Check out the guide to vegetarian and vegan substitutions >>