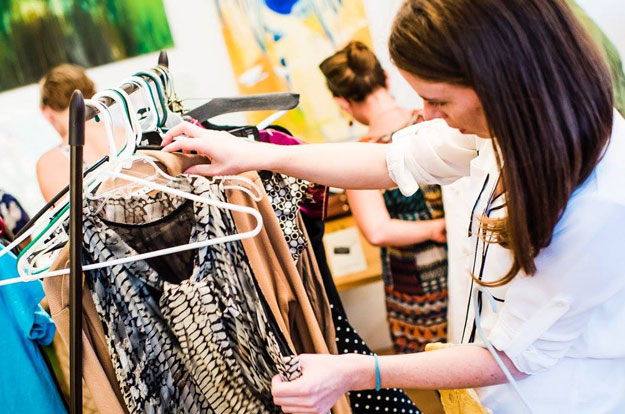 In case you missed the very brief plug at the end of my last post, we're having another clothing swap soon! If you're on the fence about joining us, let Bethany convince you with her tales of three blessings from the clothing swap gods. – Julia
The Match Made In Heaven
"I'm wearing your pants!"
Amanda never fails to text me this statement and it never fails to make me smile. She picked up a pair of gray pants that I had brought to the first clothing swap. These pants were nice gray jeans, something that I really liked, but they just fit me strangely and I could never quite make them look right on me. I reluctantly brought them to the swap thinking that I would take them home after if no one took them.
Fortunately, the swap gods had different plans in mind. Amanda snagged them quickly and went to try them on. She came out of the bathroom wearing this pair of pants that looked like they were made for her. These pants that I struggled to make work because I loved them so much looked exactly how I wanted them to when Amanda put them on, and it was wonderful! The only thing better than getting a match made in heaven is being able to provide one for someone else, so don't hesitate to sacrifice those items on the cusp to the swap gods – they have a match in mind!
The Impulsive Grab
Towards the end of the swap, the items left on the table are often plain t-shirts or basic clothing that doesn't have a lot of obvious pizzazz to it. A few times, I've impulsively picked up a plain shirt at the end thinking "well, it can't hurt anything, if it doesn't work I'll just bring it to the next swap." Somehow, those impulse grabs from the discards always end up being the items that I wear the most. One of them was a plain black t-shirt that is thin and long, and I wear it constantly. Another last minute grab was a tank top with a bold fern and red flower pattern on it – not something that I usually gravitate towards. However, it turned out to fit me perfectly and is an item that I'm really looking forward to wearing this summer. Trust the impulses that the swap gods send!
The Gift Of The Story
"Where did you get that shirt? I really like it!"
"Oh, I bought it at such and such a store"
– conversation ends –
"Where did you get that shirt? I really like it!"
"Oh, I got it at the Fair for All Clothing Swap!"
"What's a clothing swap?"
– conversation flows, friendship is made, everything is lovely and wonderful –
Okay, maybe a bit exaggerated – but one of the biggest blessings bestowed by the swap gods is the story that your new favorite shirt has. There's something special about having a one-of-a-kind shopping experience, and it's really fun to tell people where you got your eco-friendly new duds.
I hope you enjoyed hearing about the three blessings of the swap gods, and that you'll come experience them in person on Wednesday, March 15th, from 6 pm – 8 pm at New Day Craft. Click here for more info and to RSVP!
~ Bethany