This post is the third in a series about fair trade weddings. Read the previous posts on bridal gowns and bridesmaids' dresses.
Men's wedding attire is at once simpler and more complicated than women's. Their uniform is a little more strict, so your options are limited from the start, but retailers of fair trade men's clothing are also more limited. My first recommendation, as it was with bridesmaids' dresses, is to start with what the guys already own. See if each groomsman already has a nice button-down shirt and dress slacks—if they have them in the right colors, score! If not, here are a few sources for ethical dress clothes for men: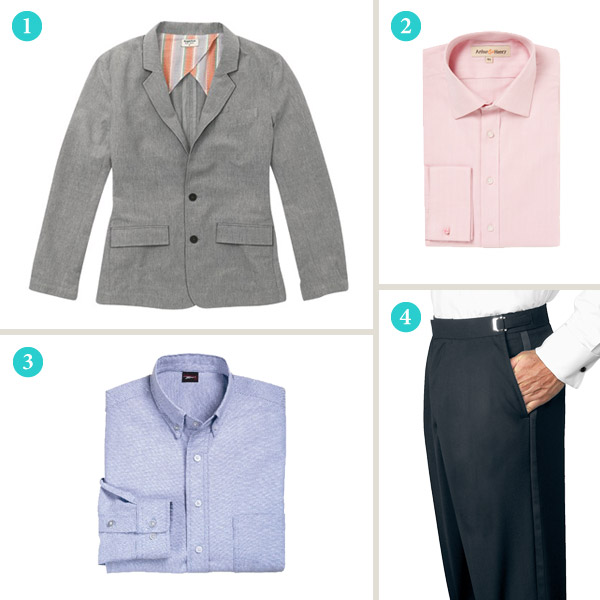 1: Hector Chambray Jacket in Gray from People Tree (fair trade)
2: Pink Herringbone Shirt from Arthur & Henry (fair trade)
3: Oxford Long Sleeve Shirt from The Union Shop (union-made in USA)
4: Applause Polyester Plain Front Tuxedo Trousers from DeMoulin (made in USA)
I have not yet found a manufacturer of fair trade or union-made full suits for men. Hopefully as the ethical consumerism movement grows, some company will fill this gap in the market (and the gap in the ethical men's clothing market in general). For now, reusing and recycling existing suits seems to be the most ethical option, either by renting or buying used.
If you want to purchase used men's formalwear, Tradesy has a section dedicated to grooms and groomsmen. It may be harder to find multiple matching items here, but it's definitely a great resource for the groom. You can also try your luck at local thrift stores.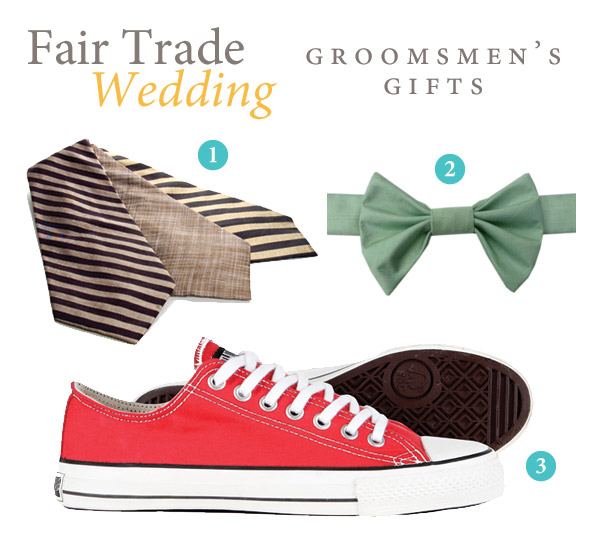 1: Handmade Silk Ties from Global Goods Partners (fair trade)
2: Silk Bow Tie from Celia Grace (fair trade)
3: Ethletic Cranberry Red Low-top Sneakers from Autonomie Project (fair trade)
The groomsmen's gift is an opportunity to have fun and be creative. My brother-in-law gave each of his groomsmen a pair of Converse sneakers to wear at the reception. I thought this was a fun yet practical gift, and it would be easy to do ethically: Ethletic sneakers are fair trade and eco-friendly, plus they come in several colors. Another gift idea is matching ties for the ceremony. Like with jewelry for the bridesmaids, this is a great way to bring some unity to the wedding party if they're not wearing totally matching outfits. And if you have hipster groomsmen? Celia Grace has fair trade bow ties.
What creative groomsmen's gifts have you seen? Isn't it about time some ethical company started making nice clothes for men? Share your thoughts in the comments!