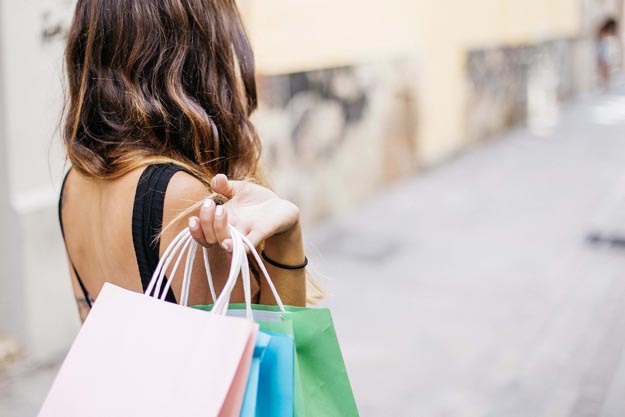 Recently a friend reached out to me about her goal for 2018. She wants to focus on making her spending more ethical, and she asked if there were any tips I could provide.
My friend is already an incredibly thoughtful and globally-conscious person, so I didn't need to start at the very beginning. ("You may not have realized that the products you buy are manufactured by people, and they're made out of natural resources provided by our planet…") I remembered a post I wrote a few years ago called The Beginner's Guide to Ethical Shopping, which focuses on how to evaluate the ethical qualities of a specific brand. While that information is still helpful, I realized I hadn't written a holistic post about how to change one's shopping routine overall.
After thinking about what practical tips I could give my friend, here are the steps I came up with for how to start spending ethically:
1. Buy less
The best way to reduce the environmental impact of your shopping habits is simply to buy less. This graphic created by my friend Elizabeth at The Note Passer was incredibly helpful to me when I began my ethical lifestyle journey:
The most important purchases to curtail are those of brand new items. New items have the highest environmental impact because they use new natural resources and require energy to be produced and distributed. Products made with recycled materials have a lower impact, but recycling still requires a great amount of energy and often some new resources to be combined with recycled material.
I was never a big shopper even before I began focusing on ethical consumption, but I found that as I've focused on cutting down on new purchases over the years, my purchases of even secondhand items have gone down as well. I've gotten much more into the habit of asking myself if I truly need to own something, or if I can borrow it or make do without.
This adaptation of Maslow's Hierarchy of Needs into the Buyerarchy of Needs, designed by Sarah Lazarovic, has also been a helpful guide for me: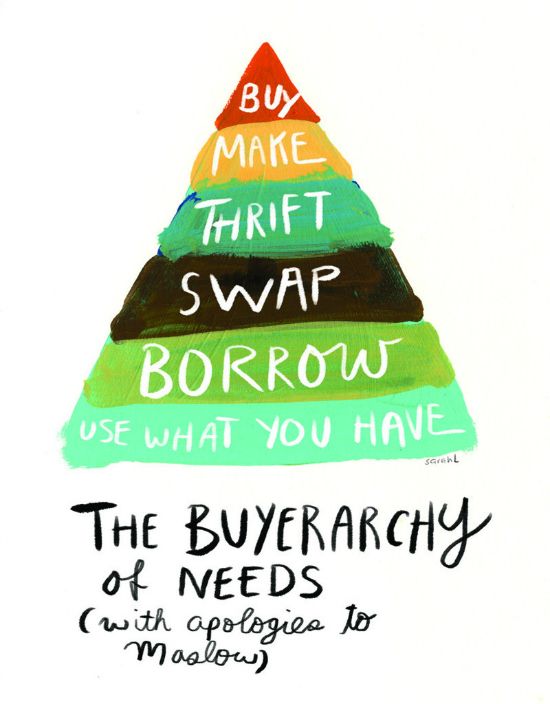 Now, you may have rightly realized that in the short-term, the strategy of buying less may not provide direct economic benefits to people employed by manufacturing. However, the culture of rampant consumption leads to long-term effects I consider far more harmful and significant, effects which require a significant economic pivot in order to be resolved.
Constantly growing consumption leads to pressures for factories, and therefore workers, to produce more products faster and cheaper, leading to lower wages and more stressful and dangerous working conditions. Unbridled production also leads to environmental degradation, often in locations with minimal environmental regulations. (Rivers running red and purple with dye in India come to mind.) This kind of poorly regulated manufacturing can lead to unhealthy or unpleasant living conditions. So rather than providing direct economic benefits, the idea of buying less is about creating a cultural and economic shift that realizes both human capacity and natural resources have limits, and that a system based on endless expansion is not sustainable.
2. Prioritize your values
If you want to shop more ethically, chances are you already have one or more issues in mind that are motivating you to make a change. Whether it's a desire to alleviate poverty, support women, reduce your carbon footprint, prevent deforestation, or any other motivating factor, when it comes to creating a practical shopping strategy, it helps to prioritize your values from most to least important to you. Having an idea of what's most important to you will help you make decisions when choosing from products with varying ethical/sustainable claims.
After prioritizing your values, determine what characteristic of a product goes along with that value. In other words, what "counts" to you as meeting that value? This will help you understand which product labels, certifications, ingredients, etc. correlate with your values. Here's an example using some my values:
Workers treated ethically – label from Fair Trade USA, Fairtrade, or Fair Trade Federation; or a thorough and transparent statement from the company about their practices
Organic/chemical-free – label from an official organic certifying body such as the USDA or Oregon Tilth; or for local small producers, assertion from the producers that their products are chemical-free
Palm-oil free – ingredients list does not include any of the palm oil root words that I know about
You might need to create a couple of different rankings based on different broad product categories. For example, for clothing, accessories and other non-consumable goods, my priorities generally go in this order:
Secondhand
Fair trade/workers treated ethically
Zero waste/minimal packaging/no plastic microfibers
Recycled materials
Organic materials
Local
However, for food, my priority list looks more like this:
Fair trade/workers treated ethically
Organic/chemical-free
Palm-oil free
Zero waste/minimal packaging
Local
Sometimes these values will shift around depending on the circumstances. You might find a product that meets every value except your #1 value, or you'll find yourself comparing a product that meets two of your values with another that meets three totally different values. It's easy to fall into analysis paralysis in situations like this, especially when you factor in other characteristics of a product like price, style, and quality. To help with this, you may want to include price in your value rankings as well. Which values are you willing to pay more to get, and which are just nice-to-haves if they fall within your budget?
Despite the occasional fluctuations, being clear on your values and how to tell if a product meets those values are important steps to shopping more ethically.
3. Change your routine
Now that you know what types of products you're looking for, you need to figure out where to get them. The hardest part of changing your shopping habits is changing your routine. If you're a "get everything at Target" person, it will take some adjustment if you need to go to different stores to find the values-based products you want. However, I've found that now that I'm in a new routine, shopping by my values comes naturally, pretty much automatically. It doesn't occur to me to shop in the mainstream, conventional way, because I've created a routine that's both convenient and personally fulfilling to me.
Start by getting into a routine for the products you buy most often, which for me is food. With how I shop now, I've found that I shop at more stores for food than I did before, but fewer stores for everything else.
I've gotten familiar enough with the stores in my area to know that for organic, zero-waste peanut butter, I need to go to Fresh Thyme. I get organic bulk foods at the Good Earth, Fresh Thyme or Earth Fare, and I get organic packaged goods at Kroger (their Simple Truth store brand has a lot of organic bargains). I get chemical-free, zero-waste produce at the farmers' market, Kroger or Fresh Thyme.
For personal care items, I start at the Good Earth, but I also get some items on Etsy because they have a bigger selection of palm-oil free products. Kroger is my stop for inexpensive recycled toilet paper.
For non-consumable goods, my first stop is always Goodwill, then usually Amanda's Exchange consignment store, or sometimes Craigslist or Facebook. If I need to get gifts, my first stop is fair trade store Global Gifts, then other locally-owned boutiques and gift shops.
4. Cut yourself some slack
Just because you've decided to change your shopping habits, that doesn't mean you'll suddenly have enough time in the day to perfectly follow your new system for every purchase from day one. I'd say it took me about five years to really develop a comprehensive ethical shopping routine, and it's still growing and changing. I started in college with the items I bought most often and that had high levels of worker mistreatment: clothes, shoes, chocolate. Once I moved into an apartment, I started being more conscious about other food items. As my interest in sustainability grew, I started favoring used items and products with less packaging. And just within the last year, I've started avoiding palm oil and plastic microfibers.
There will always be some aspect of a product that's unethical on someone's standards (unless you live on a self-sufficient permaculture farm and weave fabric out of your own hair). That doesn't negate the positive effects of the values-based choices you make. Buying less is pretty much always a win. But when you do need to buy something, getting a product that causes less harm in a certain area than the standard option does seems like a no-brainer to me.
If you're an old pro, what other tips do you have for someone getting into an ethical shopping routine? Post them in the comments!