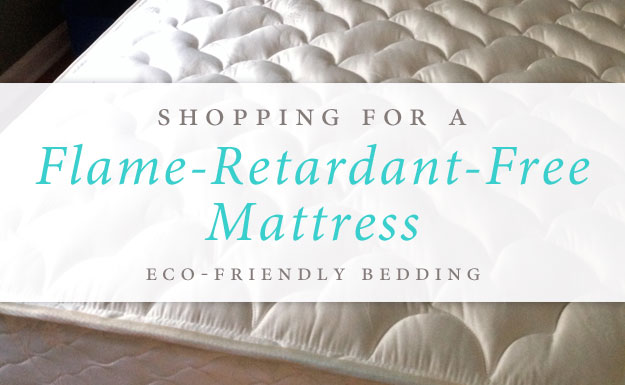 I've been vaguely intending to get a new mattress for a couple of years. My old one was somewhere between 20 and 25 years old, first having served as a guest bed for a few years, then as my bed since I was about 10. She was trusty and sturdy but starting to get saggy. After moving into the house I decided it was finally time to do the upgrade from full to queen and treat myself to a more supportive night's sleep.
Obviously for such a large purchase I wanted to make an ethical and sustainable choice, but I wasn't totally sure what that meant for a mattress. The three factors I pondered were:
The presence of flame-retardant chemicals (I wanted a mattress without them)
Use of sustainable/renewable materials
How and where the mattress is made
Another caveat for my buying process was that I wanted to be able try out the mattress in the store before ordering. This requirement ruled out the many eco-friendly mattress brands available online. (If you're less squeamish about picking a mattress without trying it, The Good Trade has an excellent rundown of sustainable online brands). My final requirement was staying within a budget of about $1,200 for a queen-sized mattress and box spring.
The mattress I ended up choosing is the Celebrity Soft Top from Holder Mattress:
If you haven't heard of Holder Mattress, that's because to my knowledge it isn't a nationally-distributed brand. When I first heard about the company a few years ago, what intrigued me was that Holder has its factory and headquarters in Kokomo, Ind., about an hour north of Indianapolis. In terms of getting a locally-made mattress, you can't get much closer than that.
Since mattresses are so large and heavy, I like that these finished products aren't shipped all over the place before reaching their final destinations. Holder has a showroom in Kokomo and another in Carmel, which is the one I visited. I tried out one of the floor models, and then they made my mattress to order and delivered it to my house. Each mattress is handmade, and in addition to the minimal-shipping factor, I liked supporting a fairly small and family-owned business.
As with food, I assume the transportation footprint of a mattress is relatively small compared to the footprint of its production overall, so I don't wave the local flag as a huge and definitive sustainability win. Rather, I consider it a positive factor that combines certain environmental and community benefits. Following my purchase, I learned that there are in fact many mattress brands that manufacture within the U.S. Holder still seems to be the closest to Indianapolis, but if you live elsewhere you likely have other local mattress options.
The other factor on which Holder Mattress won me over was the fact they don't use flame-retardant chemicals in any of their mattresses. Why did I want to avoid flame-retardant chemicals? First of all, it's not 1960; I don't smoke in bed (or at all). Second, as our guest blogger Travis Nagle briefly touched on in his post about eco-friendly furniture, flame retardants have been questioned as ineffective precautions that are also linked to a variety of health problems. A new study out this month finds an association between certain flame retardant chemicals and thyroid cancer.
One of my early furniture-buying regrets is that I let the salesperson who sold me my sofa talk me into a stain-resistant chemical coating. I hate to think what invisible chemicals it's been off-gassing for the last five years. I definitely wanted to avoid any unnecessarily chemicals in a mattress that I plan to sleep on every night for the next 10–20 years.
The sustainable characteristic I didn't really get with this mattress was the use of natural materials. The Celebrity is one of Holder's lowest models, so it contains less-expensive materials such as polyurethane padding and polyester fabric. I initially felt strongly about getting a petroleum-free mattress—people used to make mattresses before we turned liquid dinosaurs into fabric and foam; why can't we now? But ultimately, cost is what deterred me from pursuing a more natural mattress. In its higher-end lines, Holder does produce mattresses using wool fabric and latex foam, but their most natural option was $3,600 for a queen set—three times my budget. Depending on the brand, queen sets using latex foam appear to start around $2,000 and go up from there.
I'm about 80% satisfied with the mattress choice I made, but If I were to do this process again, there are a couple of things I would do differently:
Attempt to find a latex foam mattress to try in-store. One reason I was hesitant to order a natural mattress from an online brand is the fact that I haven't encountered a latex foam mattress in person before. I don't know if I would even like what it feels like to lay on one. However, this type of mattress is becoming more popular. I could have tried one in-store (such as the high-end Holder version), and then perhaps felt more secure ordering a less-expensive latex mattress brand online.
Do more research about the benefits of natural materials in mattresses. Once I found a flame-retardant-free mattress I could try out in a store and that was within my budget, I didn't really pursue any further research into natural materials. In hindsight, I wish I would have done more research about both the individual and systemic benefits of using renewable materials in mattresses, and used that information to decide how much I was willing to spend on it.
Responsibly Disposing of Old Mattresses
Another reason I initially wanted a mattress made of natural materials was to give consideration to the eventual end of the mattress's useful life. When a mattress is no longer supportive or comfortable to sleep on, what can be done with it? Most mattresses today end up in a landfill, and my thought was that a mattress made of natural materials may be easier to recycle. However, after some light Googling, I'm not immediately finding any programs that claim latex mattresses are any easier to recycle than conventional mattresses. Latex mattresses are indeed recyclable, and so are the majority of components in a traditional mattress. The tricky part is actually finding a facility that will pick up and recycle your mattress.
The challenge of responsible mattress disposal is also one of the reasons I was hesitant to try an online-only mattress brand. Most of these brands offer some version of the "try for 100 nights" plan where you can return the mattress if you end up not liking it. However, I think "return" is a misleading word in these programs, because once a mattress has been in use for 3+ months, the company can't turn around and re-sell it to someone else. I discussed this briefly with my salesperson at the Holder showroom. Holder also has a try-and-return program, and the salesperson said the company used to be able to reuse the inner components of a returned mattress, but now if a mattress is returned they throw the whole thing away. I'm not sure if this is due to a specific law, concerns about bedbugs, or both, but the fact remains that at a minimum, a significant portion (if not all) of a mattress goes to waste if you decide to return it after trying it.
After being unable to find a local charity that accepts mattress donations, I decided to keep my old mattress and box spring as a combination of lounge seating and a guest bed in my basement (which I affectionately refer to as "the tacky den"). After I set it up I actually got giddy about how awesome it is. Behold the majesty:
I threw my old college bedding on it, and boom! A relaxing and decadent seating area only enhanced by its wood paneling backdrop. The height is perfect for seating but not too awkwardly low for a bed. My roommates John Cena and Frodo approve.
If you aren't blessed with a room free-spirited enough to have a mattress couch, I did come across 1-800-GOT-JUNK in my research, a company that will pick up old mattresses and purportedly recycle them if possible. You can also check out this directory of mattress recycling locations; however, the facility in Indiana no longer appears to be in operation.
Stay tuned for part two of this post, in which I delight in the eco-friendly features of my new queen bedding.
Have you purchased an eco-friendly mattress, online or otherwise? What brand did you go with, and how did it work out?