Check out part one to learn about my quest for a flame-retardant-free mattress.
Having recently upgraded my mattress from a full size to a queen, I found myself in need of new sheets. Like shopping for a mattress, this was new territory for me; the sheets I had been using were nearly as old as the mattress itself.
I looked exclusively for fair trade, organic cotton sheets. My primary reason for preferring organic cotton is that the growing process is less chemically-intensive, and therefore hopefully safer for farm workers. As far as I know there haven't been any studies about the long-term health effects of organic cotton farming to definitively prove it's safer, but there have been multiple studies linking pesticide exposure to negative health effects, and conventional cotton is one of the most world's most chemical-intensive crops.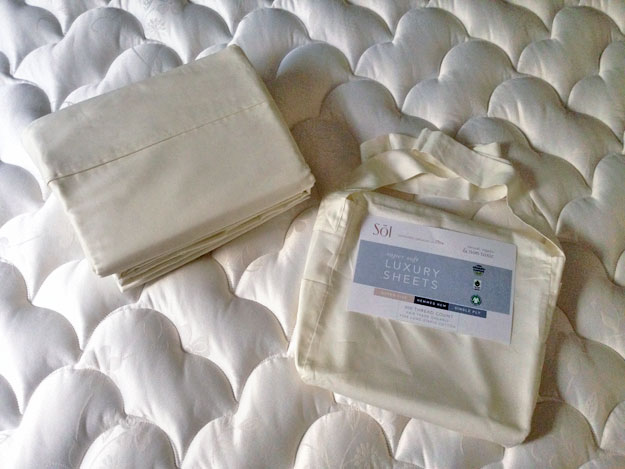 I found this sheet set offered by Sol Organix, and it turned out to be the least expensive organic and fair trade option I came across—other brands can be upwards of $200 for a queen set. Sol's sheets are certified by the Global Organic Textile Standard (GOTS), which prohibits the use of various toxic inputs and sets social criteria for the entire production chain. The cotton used by Sol Organix is also certified by Fair Trade USA, indicating that the cotton was produced in accordance with fair trade principles including fair prices and credit, safe working conditions, and the absence of forced or child labor.
(One aspect of Sol Organix sheets I would have liked to see more clearly addressed on their website is the working conditions and wages for the workers who actually produce the sheets. Their website claims that the company believes in "total transparency, from farm to factory to fabric," but they don't provide much information about anything after the farm stage. However, social criteria for manufacturing can be found starting on page 28 of the GOTS documentation and is actually much more robust than I expected.)
Upon receiving the sheets in the mail, I was delighted by their packaging: instead of coming in a plastic zipper bag, the Sol Organix sheets came in a reusable fabric bag complete with a long strap, side pocket, and button flap.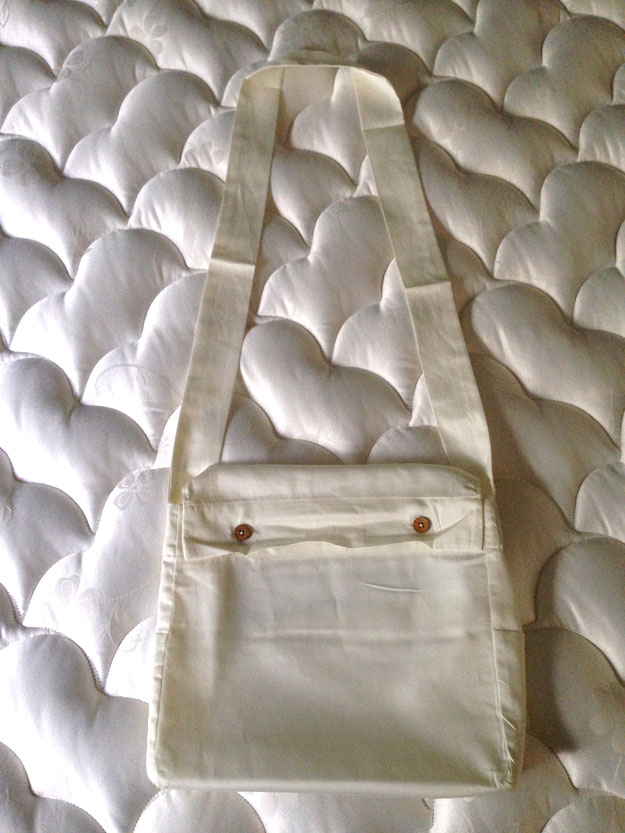 Granted, the bag is made of the same fabric as the sheets, so it's not terribly sturdy, but props to Sol Organix for being super-intentional about the reusability of their packaging. I've actually already used the bag twice, once as a laundry sack for dirty clothes on a weekend trip and once to keep a fancy scarf segregated from dirty shoes that were sharing the same luggage. Versatile!
The sheets are incredibly soft and I love the ivory color. One minor downside is that the fitted sheet is designed to accommodate a very deep mattress, up to 17 inches. My mattress is only about 11–12 inches deep, but after washing there actually wasn't that much excess sheet to deal with, and it all tucks away nicely under the mattress.
In addition to the sheets, I decided to cover my mattress with a waterproof mattress protector. Using a mattress protector was recommended by Holder, the company I bought my mattress from, and until then I didn't even know waterproof mattress covers existed, other than full-on plastic sheets for children. However, in the mattress shopping process I read a lot about the dust mites and allergens and mold that can accumulate in mattresses over time. Since I intend my mattress to be a 20-year investment, I want to protect it and keep it as clean as possible. I had a brief ethical crisis about using a product that adheres polyurethane to fabric, which I assume negates any recyclability either of those materials might have had on their own, but ultimately I decided that using a small amount of eventual-trash-plastic was worth it to extend the life of a product with a much larger environment footprint (the mattress).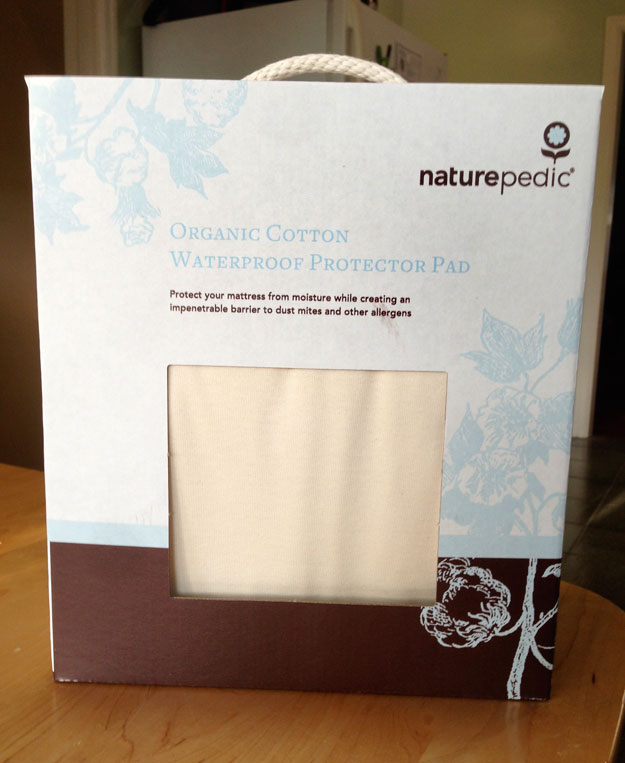 I went with Naturepedic's organic waterproof mattress protector. As with the mattress, the major selling point for me was the absence of flame-retardant chemicals. I'm happy with it so far—it didn't change the feel of my mattress, and I haven't noticed it make the bed dramatically warmer (causing a bed to "sleep hot" is apparently a flaw of many mattress protectors, I learned in the shopping process).
As for the rest of my bedding, the fair trade Guatemalan quilt that I've written about previously was in fact queen-sized, so it still works with the new mattress just fine: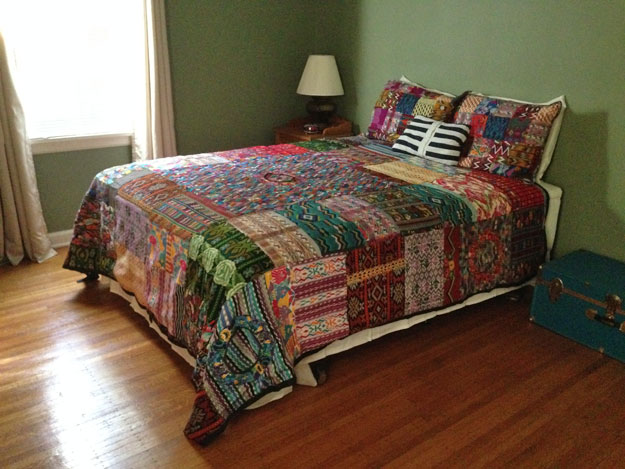 Have you gone organic with any of your bedding? What are your favorite sources? What's the best reusable packing you've encountered, for bedding or any other type of product?