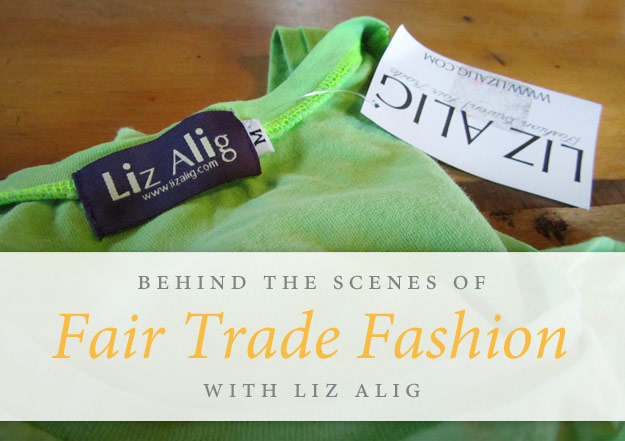 In an old farmhouse at an orchard east of Indianapolis is a hidden fashion design studio you'd never know was there. It's the headquarters of Liz Alig, and a couple of weeks ago founder Elizabeth Roney invited me to visit the studio.
I had never been behind the scenes of any kind of fashion business, let alone a fair trade fashion company, so I came with tons of questions and left with a head full of knowledge (along with a bunch of food I bought at the adjacent country store).
Here are the biggest things I learned:
1. A small team can have a big impact
The first thing I was impressed to learn was that Liz Alig is only a two-person operation. Elizabeth, as designer and operations manager, designs the collections and handles the logistics of communicating with the fair trade producers. Liz Alig is focused on wholesale distribution through boutiques around the country, so Elizabeth has a part-time sales and marketing associate help with that end of things.
It was encouraging to see a small team make such a big impact. Through the work of just two people, Liz Alig provides opportunity to fair trade producers in several developing countries and offers conscious consumers an ethical and fashion-forward clothing option.
2. Design is a small part of the process
Elizabeth told me that the design part of being a fashion designer actually only takes up a fraction of her time. Liz Alig releases two collections a year, fall and spring, and each collection takes about two weeks to design. It takes another two weeks to create the patterns the producers will use to make the orders.
After creating the patterns, Elizabeth will make a sample of each piece and send it to the producer group, or more often, she will send the group the pattern and have them make the sample themselves with a sketch to guide them. "That way they understand more how the piece is assembled," Elizabeth says.
The rest of Elizabeth's time is spent working with the producer groups to make and receive the orders, which I learned has its own set of unique challenges.
3. Cultural miscommunication is a common occurrence
Liz Alig works with producer groups in Cambodia, India, Honduras, Haiti and more, and each group has different capabilities and resources. I asked about the language barrier, and Elizabeth said she frequently uses Google Translate to communicate with the different groups.
As well as speaking different languages, the producer groups also have different cultural ideas about what constitutes good fashion. Elizabeth said that many times she's received a sample or shipment and been surprised by the colors used or the fit of the garments. One group used short zippers that didn't work with how the garment was supposed to fit. Another group paired multiple bright colors together to make tops that were louder than what would be marketable in the boutiques where Liz Alig is stocked.
Quality can also vary depending on the producer group's circumstances. The group Liz Alig works with in Haiti doesn't have electricity, so they produce their garments using a foot-powered treadle sewing machine and by hand-sewing. "We want to give them more orders, but we need to get their quality up," Elizabeth says.
I was heartened to hear this real story of the impact of fair trade relationships. A group without electricity would never be considered a viable option for fast fashion production, but by forming long-term relationships, fair trade offers this group in Haiti the opportunity to learn by doing, improve their skills and increase their capacity.
4. Excess fabric is big business
Liz Alig makes several of their styles using factory excess fabric. I asked if factories are ever surprised when someone calls wanting their waste, and Elizabeth explained that the sale of excess fabric is actually a big industry. "People don't realize how much waste there is in fabric production," she said. Excess fabric can occur when the original purchaser orders too much, or if the color or design don't match what the original purchaser wanted.
Liz Alig gets most of their factory excess fabric from El Salvador or Cambodia. The fabric is sold in warehouses or markets, sometimes in reams and sometimes just in wads. Elizabeth said that she tries to design garments using fabrics she knows will be abundant in the excess markets, such as gray jersey knit.
It was fascinating to learn the ins and outs of how a fair trade company actually conducts business, and to learn how clothing goes from a designer's idea to a real garment hanging in your closet. Thanks to Elizabeth for letting me visit and for sharing her knowledge and the Liz Alig story!