I wore this outfit a couple of weeks ago, and in the middle of the day I realized, "I'm morally satisfied with where all of these pieces came from!" So I thought I would share it with you as an example of a totally wearable, sweatshop-free outfit.
Shirt: Fair Indigo – organic cotton, fairly made in Peru (similar)
Skirt: Imprint Collection – made fairly Cambodia by at-risk young women in a job skills program
Necklace: Ten Thousand Villages – made fairly by Jacaranda Workshop in Kenya (similar)
Shoes: Oka B. – recyclable, made in USA
The black t-shirt from Fair Indigo is super-versatile, and I appreciate that the sleeves are real sleeves and not just caps. I fell in love with the skirt at a byTavi party one of my friends hosted. She had several skirts, all in different fabrics—as soon as I saw this one, it was all over for me.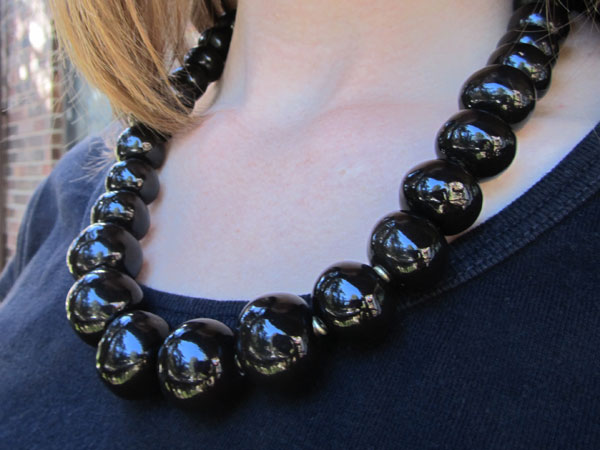 The necklace was an impulse purchase at the Ten Thousand Villages store in Portland, ME, when I was shopping with a friend on vacation. I had been thinking about getting a big black statement necklace since a lot of the jewelry I own is delicate and somewhat formal. This behemoth was on the clearance rack, and it is by far the heaviest necklace I own. One good thing about fair trade items is that they're usually made from real materials, not plastic! The ceramic beads and brass chain are substantial and speak to the handcrafted nature of the necklace. If you want to be encouraged, read more about Jacaranda Workshop, the group that produces this necklace—their work is truly inspiring.
Full disclosure: when I wore this outfit originally I wore some black flats that I thrifted last year. But I just got these new slingbacks from Oka B. and wanted to give them a test run. I love my tan Taylor Oka B. flats, but being made of plastic, they do sometimes cause perspiration. My thought about getting the Brooke slingback is that they are less enclosed, allowing for a little more airflow. I haven't worn them all day yet, but I'll be sure to report if they pass the test.
What's your favorite sweatshop-free outfit? Has anyone else tried out the Oka B. slingbacks yet?