When I began fair trade shopping several years ago, I experienced a little sticker shock. I was a college student who wasn't used to paying full price for anything, let alone the "true" full price charged by many fair trade retailers.
It's not a big secret that fair trade items are sometimes more expensive than their conventional counterparts. It makes sense: when workers are paid a living wage, that cost gets added to the final price of the product. What is a secret is that fair trade items can often be just as affordable (or more affordable) than conventional items.
One way that I eased into buying fair trade—and a practice I still follow today—was to take advantage of sales and deals. Just like any other stores, fair trade shops have periodic sales to clear out old merchandise or promotions to attract more customers. In 2014, I want to share more of these sales with you to help you find ethical goods that are just as affordable as conventional ones.
Fair Indigo, one of my favorite ethical retailers, has frequent sales and happens to be having their big winter sale right now. They sell a mix of fair trade, made in USA, and organic items.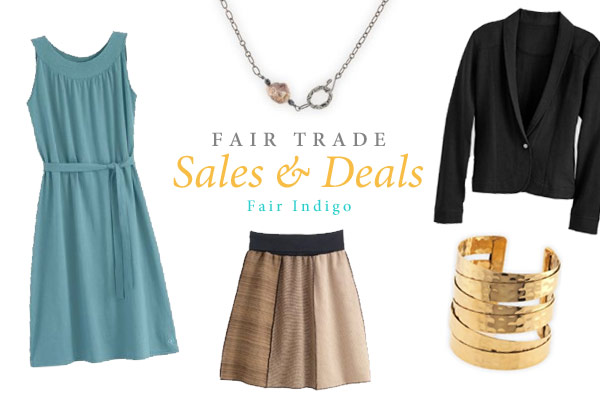 There's plenty of cold weather left, so perhaps you could use a cozy recycled fiber cardigan or knit blazer. Or if you're preparing for spring, check out their adorable organic cotton dresses. (I have professed my love for these before and I will do it again and again, occasionally in song.) Some of the sale prices are even lower than what you would find in a regular store.
Items shown above with sale prices:
Now that I see them all together, they make a nice little mix-and-match set, don't they? And don't worry: when you buy a fair trade item on sale, the maker of that item has already been paid a fair price. It's the retailer who takes any losses.
What are you shopping for right now? Are you getting ready for spring or still layering on sweaters? (After the Polar Vortex every 30-degree day feels like picnic weather to me.)