With all of the fair trade topics I have been covering lately, it's been a while since I've mentioned my other approach to ethical consumerism: thrift shopping. While I tend to go fair trade when purchasing gifts for others, when I need something for myself the first stop is the thrift store. Thrift shopping reduces waste by giving old items a new life, and when you buy from a thrift shop, your money does not go to support the companies who produced the items using potentially exploitative practices.
Thrift shopping can be overwhelming, especially if you're not used to the structure (or lack of structure) in your local resale shops. Here are my top three tips for finding items you will love and wear!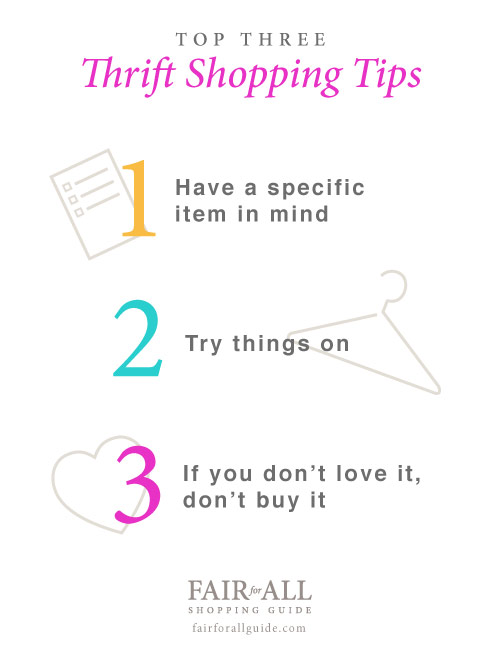 1. Have a specific item in mind
For several years, I viewed thrift stores as magical wonderlands full of treasures for me to discover, and I would go thrift shopping with no set agenda or list. This approach led to me having a closet full of interesting and eye-catching items that didn't necessarily work together as outfits and weren't practical for my everyday life.
Nowadays, when I hit the thrift store I look for one thing. Black pants. Comfortable flats. A tan cardigan. Having a specific item in mind helps me focus in the often overwhelming landscape. The time you save by not aimlessly wandering the aisles is time you can spend really evaluating at every available option that matches what you want.
2. Try things on
For me, one of the major benefits of thrift shopping over buying ethically-produced clothing online is the ability to try things on. I don't have the patience for the song-and-dance of ordering something, it not fitting, and having to send it back. Thrift shopping is my answer to this problem. The clothes are right there! I can try on 10 pairs of pants immediately!
Before you start gathering things to try on, be sure to confirm that the store you're at has a fitting room. Of the thrift stores near me, Goodwill has fitting rooms while Value World does not. If you're at an independently-owned vintage or consignment shop, it could go either way, so be sure to look around or ask a clerk if you don't immediately see one.
Stores without fitting rooms can still be worthwhile stops depending on what you are looking for. You can try on cardigans, jackets, shoes, and accessories without a fitting room, so if I'm looking for any of those things I include stores without fitting rooms in my lineup.
3. If you don't love it, don't buy it
This is perhaps the hardest lesson to learn in thrift shopping. I used to buy anything that fit decently, regardless of whether I needed it or what condition it was in (other than major damage or holes). As a result I had a wardrobe that looked like it had already been through the wringer and again didn't always cohere into good outfits.
Now I ask myself a series of questions before I buy something. Is it in like-new condition, or does it already look worn-out? (Cheap knit fabrics can wear out and pill easily, so check for wear even on current styles.) Do I feel good wearing it? Is it flattering on me? Would I buy this item new if I saw it in a regular store?
Those are my top three tips for successful thrift shopping. I'd love to hear yours—post 'em in the comments!