This is the first of a new kind of post that may become a periodic feature here on the Fair for All blog. It's a foray into ethical "personal shopping," meaning I take someone's real-life need and try to find an ethical solution that works for them. It's definitely an experiment, so I hope you enjoy the results!
My first personal shopping guinea pig is my friend Sarah. She's a youth pastor and the mom of a very active toddler, and she is in need of new clothes for work, particularly pants. Her criteria for the pants were that they be a neutral color and have pockets. She also mentioned she could use some new tops.
Here are the recommendations I came up with for Sarah based on her needs: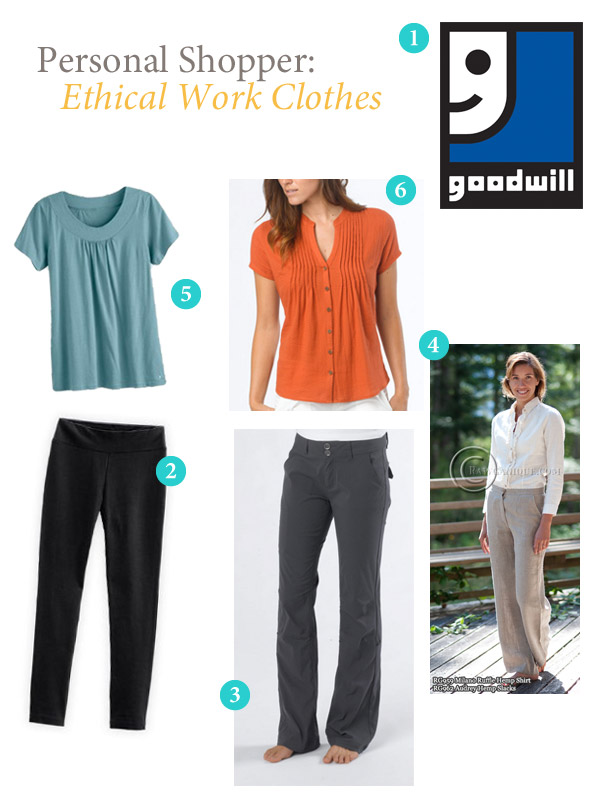 Pants
In my research I found that there are not a lot of ethically-produced, work-appropriate pants available currently. I found ethical yoga pants, leggings, pants in crazy patterns, and high-end jeans, but very little in the way of conservative-but-flattering slacks. As a result, my first recommendation was…
1. Thrift shopping
I recommended thrift shopping as the best way to purchase pants ethically for a couple of key reasons:
You get to try them on! Sarah expressed fit as a concern when we were talking, and with her busy schedule, she doesn't have time to be shipping pants back and forth from the internet to find the right fit. (Pro tip: Make sure the thrift store you're shopping at has fitting rooms before you start browsing.)
The selection at chain thrift stores like Goodwill is pretty broad, which means your chances of finding something in the right size and style are pretty decent. If you don't find what you need at a basic thrift store, you can move up to consignment stores, which tend to carry higher-end merchandise.
I also sent Sarah the following online options in case she needed something brand new.
2. Fair Indigo Slim Leg Fair Trade Organic Pant
Made fairly in Lima, Peru, out of organic cotton
Machine-washable
Does not appear to have pockets
Available in four different neutral colors and has pockets
Cannot find any ethical information about these pants specifically. (PrAna has a line of Fair Trade Certified clothing, but these pants are not part of that line.)
4. Eco-Couture Audrey Women's Hemp Slacks from Rawganique
Made in a sweatshop-free facility in Europe
Have pockets and are machine-washable
Come in natural or black
Tops
Compared to pants, finding ethical tops was a breeze—I was able to actually take Sarah's personal style into account instead of just scrounging for anything. Since her need for tops was secondary, I only sent her two online options:
5. Fair Indigo Circle Neck Organic Fair Trade T-shirt
Comes in several colors
Made fairly of organic cotton in Lima, Peru
Machine-washable
Site has several other tops that Sarah might like
Part of prAna's Fair Trade Certified collection
Made of organic cotton
Comes in four colors
I also recommended thrift shopping as a great source for tops. If you're already out getting pants, why not?
The Verdict
I sent my recommendations to Sarah last week and asked for her feedback. Which options sounded like they would actually work? Her response:
"I've been wanting to get to Goodwill since you mentioned it! I'm really excited to get there after the mission trip and VBS."
Thrift shopping was the option that Sarah thought made the most sense for her. I'll be interested to see if she has success when she goes shopping later this month!
Are you interested in being an ethical personal shopping guinea pig? Leave a comment or send me an email at info@fairforallguide.com! I'm excited to help people find ways for ethical shopping to work in the real world.