I am entering a new phase of my life. As the age of Everyone I Know Is Getting Married winds down, the age of Everyone I Know Is Having Babies is picking up. When I realized I knew three super-pregnant women at the same time, as well as three women with young'ns under the age of three, it occurred to me that a post about safe and ethical baby items could be useful!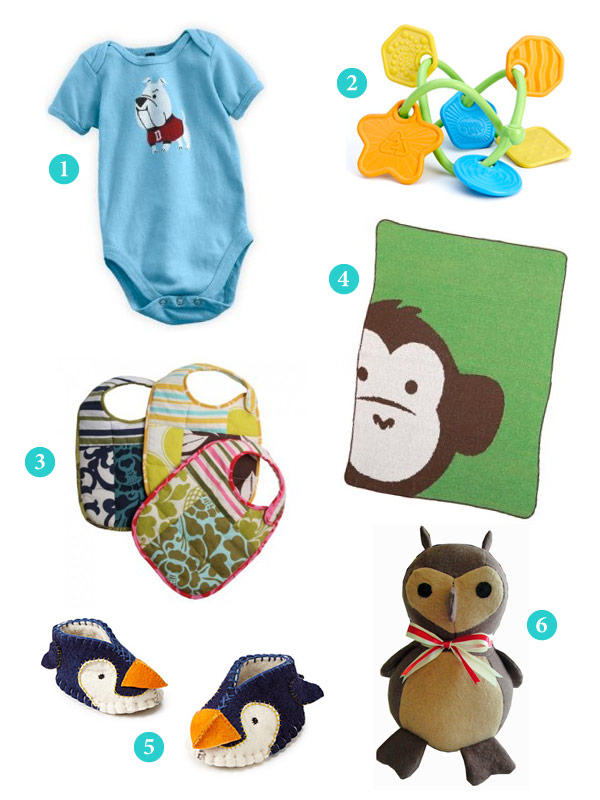 1. Green 3 Apparel Doggies Organic Baby Playsuit – Made of organic cotton in USA (Fair Indigo)
2. Green Toys Twist Teether – Made of recycled food-safe plastic in USA (Made in USA Forever). I love Green Toys—their toys are safe and eco-friendly, and they have toys for older kids too, not just babies. When I have kids I want all of their toys to be Green Toys! Made in USA Forever carries a ton of them.
3. Scrappy Bib – Made of recycled cotton fabric scraps (which I think are organic) in Bali (Greenheart Shop)
4. Green 3 Apparel Recycled USA-Made Monkey Throw (Green) – Made of 75% pre-consumer recycled cotton and 25% acrylic in USA (Fair Indigo)
5. Penguin Booties – Made of sheep's wool by artisans in Kyrgyzstan (Uncommon Goods)
6. Organic Stuffed Owl – Made of organic fleece in USA (Stuffington Bear Factory)
With products for babies, safety is obviously a top concern. The great thing about many ethical producers is that they focus on the safety of their products as well as the safety of their workers, especially for baby items. No worries about baby gumming on lead-based paint! I would particularly recommend organic cotton products for babies; check out this blog post from Modavanti for information about why organic cotton is so important.
Are you also surrounded by glowing pregnant goddesses? Do you wish they made adult-size penguin booties? (I do!)