I've talked before about my love of free return shipping. For me it's the key to a satisfying online shopping experience, especially for shoes. I'll sometimes roll the dice on a shirt or dress without free return shipping, but never with shoes, since there's a 70% chance I'll have to send them back due to fit.
In the ethical shopping landscape, it can sometimes be hard to find free return shipping, as many retailers are small, independent companies. However, I've found several ethical shoe options that ARE available with free return or exchange shipping! From cute flats to rugged boots, these brands offer a wide variety of styles that you can order and try on without worry.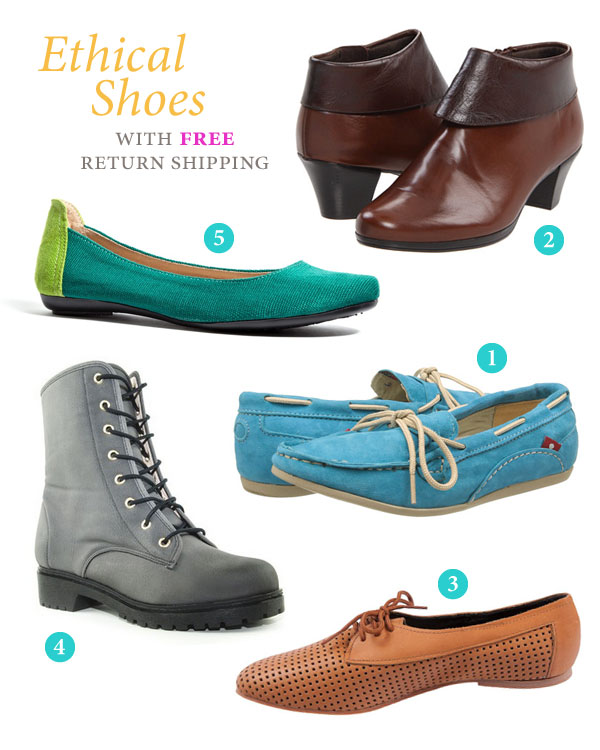 1. Oliberte – This brand is the only shoe manufacturer Fair Trade Certified by Fair Trade USA. They offer rugged leather styles for both men and women. NOTE: Order through Zappos for free exchanges and returns. The Oliberte website only offers free exchanges.
2. Munro American – This made-in-USA brand skews more conservative in style, making them a great option for the office or for the more traditionally-minded fashionista. Order through Zappos for free exchanges and returns; the Munro American website offers neither.
3. American Apparel – A trendier made-in-USA option, with styles for both men and women. American Apparel offers free return shipping for all returnable items. NOTE: Sale items are not returnable.
4. Modavanti – This ethical storefront carries many different brands that are required to meet a minimum sustainability threshold. Exchanges and returns are free if you sign up for an account (also free).
5. The Root Collective – Each pair of flats from The Root Collective is handmade in Guatemala. Exchanges due to fit are free, but returns are not.
I have not personally worn shoes from any of these companies (though I did order and free-return a pair of shoes from American Apparel last year), as I tend to get most of my shoes at the thrift store. That's another great ethical option with no shipping woes!
Have you tried any of the brands above? Do you know of any other ethical shoe brands with free return shipping?