If you know me in real life, you know that I have been a grumpy bear since the weather turned cooler. Overcast skies and cold temperatures (i.e. anything below 60 degrees) are NOT my jam, but I've found a silver lining: My favorite fair trade companies are all coming out with their fall collections. If it's going to be Gloom Central outside, at least there are pretty things to look at online!
Here are my favorite items from some recent fair trade fall collections: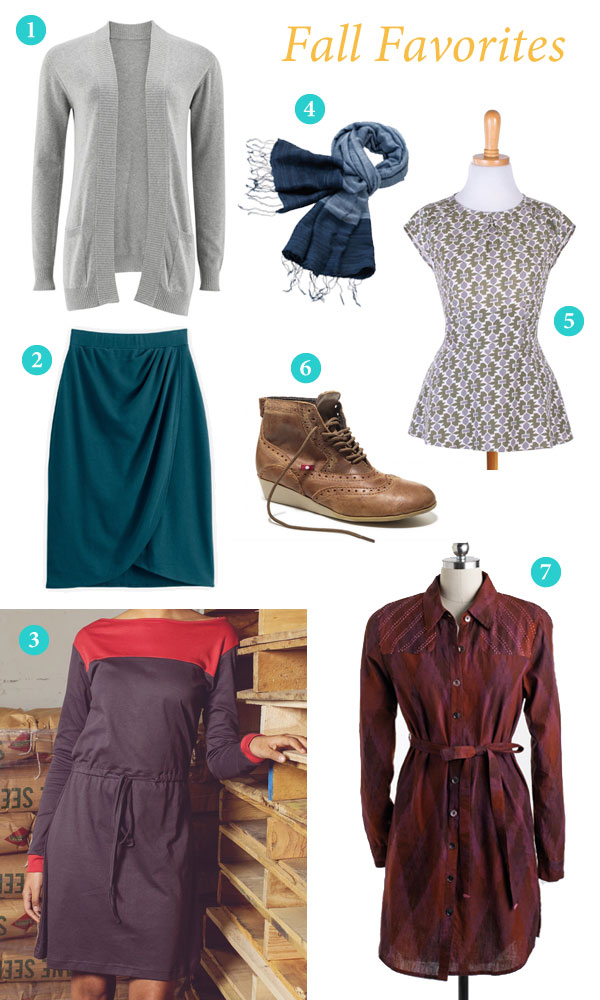 The cardigan and the tulip skirt would be such a cozy combination, and the brown boots would look great with the shirtdress.
The change of the seasons is also the time to take advantage of sales on outgoing summer items. This is my favorite way to score items from pricier brands. Check out the sale pages for some of the brands featured above—you're bound to find a deal on something that will work perfectly well in fall with the right sweater or leggings.
How do you feel about fall? I feel like I'm definitely in the minority cursing its arrival. I'll be fine with it come October, but expect me to continue scowling at the thermometer for the next two weeks…