The roundup is taking a break for a while to recalibrate and make sure it's full of the best, most useful stuff. In it's place we're launching a new series to introduce you to other ethical lifestyle bloggers!
The first blogger we're featuring in our new Meet an Ethical Blogger series is Leah from Style Wise. You may already be familiar with Style Wise since I link out to it on the regular. It's one of my favorite reads for insightful perspective on consumer culture. I asked Leah a few questions to learn about the story of Style Wise.
Fair for All: Describe the focus of your blog.
Leah: At Style Wise, I focus primarily on featuring and wearing ethical and sustainable clothing and accessories. I occasionally write essays on consumerism in general and on broader issues in the retail sector.
Why do you choose to write about these topics?
I initially started the blog because I actively read personal style blogs and had one of my own. I had become quite disenchanted by the whole process. Though style blogs are often touted as an avenue by which fashion becomes more democratic, they also encourage rampant consumerism, which I believe is unhealthy and unsustainable. I thought it would be useful to use the same format as a typical fashion blog, but work within the specific niche of fair trade clothing. My hope was that I could appeal to the same readers that read popular fashion blogs and show them that they could dress thoughtfully without sacrificing style.
Of course, as I delved further into living mindfully myself, I realized that the issue is a lot more complicated than I initially realized. It's not enough to just switch our spending to fair trade, organic, or secondhand options, because the fact remains that we're still consuming too much, too quickly. I'm trying to figure out a way to appeal to the wider fashion blogging community while still tackling topics that go much deeper, that ask us to find a way to appreciate clothing without consuming like there's no tomorrow, that ask us to take the long view in an instant gratification culture.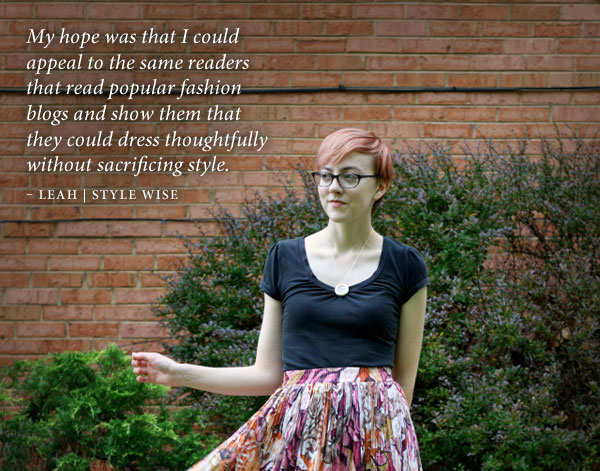 What motivates you to pursue an ethical lifestyle?
Ultimately, my reason for pursuing an ethical lifestyle is rooted in Christianity. In a faith tradition that emphasizes self sacrifice and unconditional love for all people, I began to notice a gaping hole in the way I lived out my ethics. I took efforts to be kind to people in my community and occasionally donated to Oxfam in the midst of a crisis, but I didn't realize that my consumer habits were perpetuating a system that dehumanizes and demoralizes thousands and thousands of people. Though I was raised Evangelical, I most identify with the Episcopal Church and appreciate its emphasis on taking action to change the systems that oppress people rather than just throwing money at the superficial problem. I strive for my ethics to be internally consistent; I still have a long way to go.
What makes a product or company ethical to you? When you're making a purchase or deciding what to write about, what principles or criteria guide your decision?
There are a number of things to consider here. I began this journey with human rights and labor issues in mind, so my number one priority is ensuring that the company not only has a corporate social responsibility statement in place, but that it actually follows it. A lot of companies don't have an auditing system that can actually guarantee that factory workers are being treated properly, so you can't always trust corporate documents. Transparency is the key.
After I've established that people within the supply chain have a voice, I look into what the company does with its profits. While some fair trade companies are non-profits, many are standard businesses, so it's worthwhile to pay attention to what they say about their profits. While I would prefer that the cotton farmers at the very beginning of the supply chain are also being treated fairly, it can be much harder to find information on materials sourcing. When in doubt, call or email the company and see what you can find out.
What are your top 3 favorite ethical shopping brands or websites?
Sseko Designs: This is my very favorite ethical retailer. Their sandals are produced by Ugandan women through a training program that occurs between high school and college. They make money and receive additional funding from Sseko to attend college and major in their field of choice. I love this model because there's no limit to what these women can achieve; they're not stuck making sandals for the rest of their lives.
Everlane: They make great quality classics at affordable prices, founded on a principle of radical transparency. You can read all about their factories, materials, and costs on the website.
Mata Traders: This is maybe the first fair trade clothing company I heard about. The founders are friends who saw a need and worked to resolve it. Their garments are handmade by Indian women's organizations that provide a living wage.
Thanks for having me! – Leah
Here are some recent posts from Style Wise to check out:
Over the next few months we'll share more profiles of ethical bloggers. If you can't wait for the next post, check out our Resources page for a list of ethical lifestyle blogs.