This summer I attended the Manthan International Market in downtown Indianapolis with the intent of sampling tasty foods of the world. Imagine my excitement when there turned out to be several fair trade vendors there as well! I was especially excited to meet David Durica of Las Casas, a vendor I'd never heard of before. I learned that Las Casas is fairly new to the Indianapolis fair trade scene and focuses specifically on sharing the beautiful culture of Guatemala.
I invited David to share more about Las Casas and the work they are doing in Guatemala and in the local Indy area.
Fair for All: Tell us about how Las Casas started.
Las Casas: My wife, Jenny, and I lived in Guatemala for a year, and while there we developed a deep respect for Guatemala's people and culture. Towards the end of our time, we started brainstorming ways to sustain our relationships and maintain our commitment to the people long-term. After experiencing the struggles and issues throughout Guatemala – which include: lack of education and jobs, malnutrition, and a tragic history of oppression – we began identifying the existing strengths and skills among the people. We saw that the artisans were doing amazing work but they needed access to outside markets and fair wages. The need for Fair Trade was identified by realizing that if people matter, then the way we trade should matter.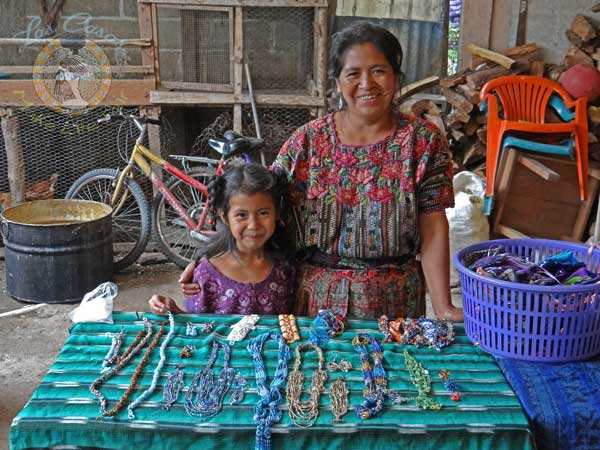 Describe your mission.
As a social enterprise, we seek to display cultural beauty, pursue fairness, and advocate for truth and reconciliation. We believe Fair Trade is a reconciled way of living for us as consumers. We view Las Casas as both a journey and a destination, a means and an end. The journey aspect is tangible by supporting fair trade and advocating alongside the indigenous artisans. This part of the mission puts fair trade merchandise into the hands of consumers. The destination is why we take part in the journey, which involves an intangible mission to reconcile trade by valuing people over product. Altogether, we hope to build a bridge with artisans living in a completely different reality.
What is it about Guatemala that makes that country so special to you?
We've always been drawn to Guatemala ever since our first short-term missions trip there in 2007. The country is vibrant with rich, cultural traditions and indigenous Mayan people who inspire us with their work ethic, commitment to family, and generous hospitality. More so than we'd experienced elsewhere, the indigenous population strive to maintain their ancient way of life, including their art of back-strap weaving, which is such a testament to their values.
During our time living there in 2011, we couldn't help but get to know local artisans. We had nothing but respect for the work that they do, and were impassioned to co-develop an avenue of support with them, their families, and their community. Thus, we started this Fair Trade venture.
The product that caught my eye the most at your booth at the market was the Guatop shoes. They are completely rad. Can you tell us more about how the design of the Guatops came to be, how they are made, and where people can get them?
You can't miss the GuaTops, right?! These shoes are made of authentic indigenous patterns from Mayan villages throughout Guatemala. The textiles are back-strap woven, then hand-stitched into a pre-cut pattern to form the shoe. The fabric is then complemented by genuine leather, which is sourced from the coast of Guatemala.
Pretty unique, right? But we're actually still in development of our GuaTops. Everything we've offered thus far was beta testing and samples. Because of the handmade dynamic, it's been difficult to offer GuaTops anywhere other than in person, which is mostly at events in the Indianapolis area. We post some pictures of the shoes online, but don't actually sell them online yet. The best way to get a pair would be to email us your general size and we can send you some pictures of our available inventory that would be in your approximate range. Then we'd connect somewhere so you can try them on!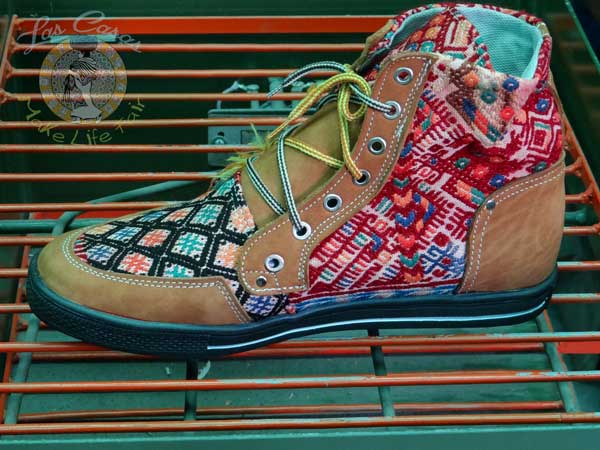 What's your favorite product that you offer, or a new product you are excited about?
Part of our mission is to support a variety of indigenous artisan groups. With that being said, the groups and individuals we're supporting come from varying levels. Some are paralyzed by poverty, so our work with them focuses on product development, creating savings, and long-term vision to lift their families out of poverty. Other groups are well equipped and have quarterly development workshops on their own.
So based on that, our newest excitement comes from a grassroots cooperative in Nahuala (a very rural village). Previously they were only making raw fabrics, so they're brand new to the world of finished goods. Exclusively for Las Casas, they're now making Snap Bags. These handy textile pouches feature a clasp made from a measuring tape…it naturally snaps back into place. We're very inspired by their initiative and ability to develop concepts and product ideas.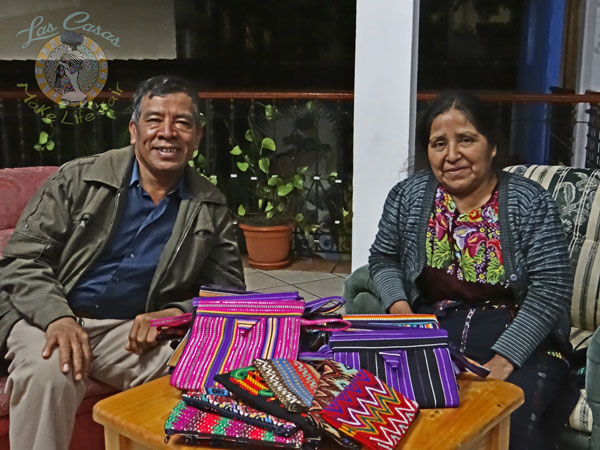 Are your products available in any physical stores/locations, or just online?
Primarily, our products are sold at local events (farmer's markets, craft shows, and festivals). We also list limited-inventory on our website with an online store. Throughout different times of the year we'll also host house parties in central Indiana, offering hosts 50% off as our appreciation for the support to expand our market.
We're developing a plan to open our own storefront. We project to be situated with a Grand Opening in 1-2 years.
Are you members of any fair trade organizations or certifications?
Las Casas is not certified through any fair trade organizations. However, half of the cooperatives we're supporting have their own fair trade certification. The other half that we support represent family owned businesses or individuals that are not formally certified, nor have they had the resources to do so at this time…which is exactly why we're working with them: to empower them and provide opportunities for development, such as certification.
What's next for Las Casas?
We're extremely excited for our brand new project called #BeReconciled. We were awarded our first-ever Community Action Grant in November 2014 to implement a local project in Indianapolis that will facilitate dialogue in diverse community settings resulting in a public art installation.

As we gear up for #BeReconciled, we're also launching an Indiegogo campaign to fundraise support with the goal of opening the storefront venue where we'll offer Las Casas fair trade retail merchandise alongside the #BeReconciled Art Gallery. Once this storefront is secured, we'll build towards plans to introduce the third and final component to the business, a small Guatemalan café. Check out more details on "what's next" on our campaign page.
Thanks to David for sharing the Las Casas story!