I've been thinking a lot about shoes lately. This is not really anything new, as shoes are fabulous and I am in no way immune to their wiles. But ever since reading this post about wardrobe staples on The Note Passer, I've been pondering what my own essentials would be, specifically in the footwear arena. I wondered, would it be possible to have a complete shoe wardrobe with only six pairs of shoes? (I have 30+ pairs currently.)
As I attempted to meet this challenge, I came up with a few non-negotiable characteristics to make sure my selections would be versatile, comfortable, and actually fit into my life.
I don't do heels, so every style had to be flat.
I work in an office with a fairly stringent dress code, so most of my selections had to be work-appropriate.
I eliminated all suede shoes because I want shoes that are worry-free in all kinds of weather, including snow and rain. Its fuzzy surface is also inherently more casual, which makes it hard to dress up.
I decided not to include specialty shoes like snow boots, running shoes or dancing shoes. Those are harder to find ethically-made, so my strategy there is to buy quality shoes that are made to last, or buy secondhand.
After some serious sole searching (see what I did there??), I came up with the following selections for my dream minimal shoe wardrobe.
I organized my search by thinking about four specific types of shoe that I felt needed to be represented no matter what. Once I had my options for each type, it was just a matter of mixing them together to make a balanced wardrobe.
Loafers & oxfords
Boots
Scout Boots from Bourgeois Boheme
Caramel Nomad Bootie from Sseko Designs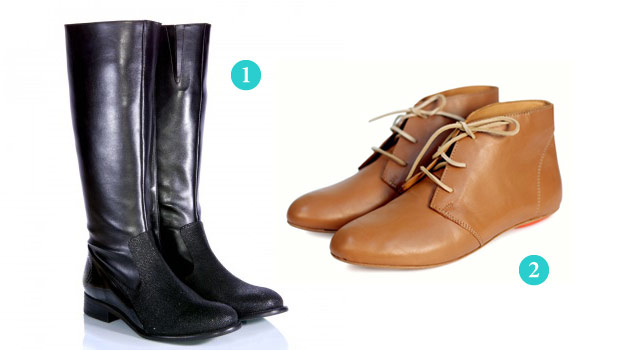 Flats
I had extra criteria for flats: a quiet sole and a slightly pointed toe. Clicky shoes are hard to dress down, and a round toe is hard to dress up.
The Classic Point in Metallic Gold from Poppy Barley
Shelley Flat from Beyond Skin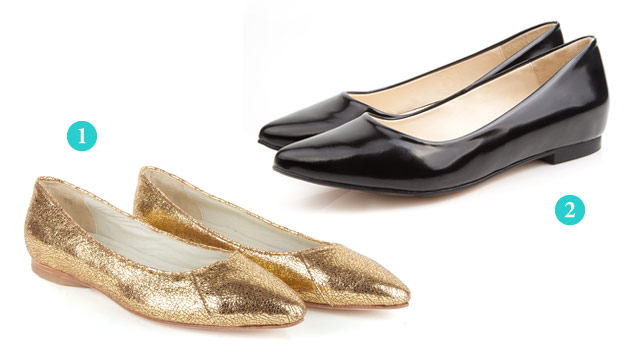 Sandals
Rose Sandal from Beyond Skin
Delicias Sandal in Pale Honey from Nisolo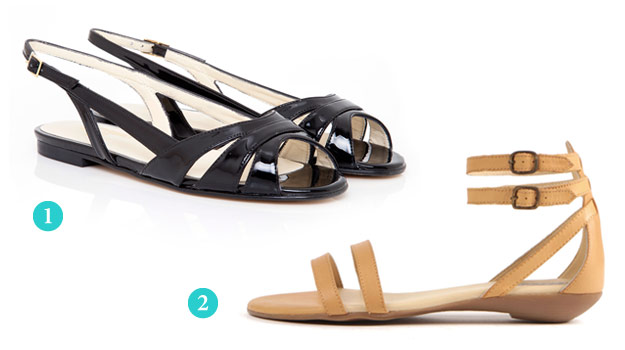 Lessons learned
One key lesson I learned during my search is that camel/nude shoes are the key to being able to wear brown clothes without having a plethora of rarely worn brown shoes. This was both a revelation and a buzzkill, because I love brown shoes and have several pairs. (Remember the surprise boots?) But from a practical standpoint, you can wear camel or nude shoes with a lot more things, and they can be dressed up more readily than brown shoes can.
Black shoes are of course the most versatile, especially if you work in an office and wear a lot of black and gray professional attire. Metallics can act as a neutral in many cases as well, but I would recommend only having one or two pairs of metallic shoes and sticking to black or camel or nude for the rest.
Another takeaway was the wonder of oxfords and loafers. I don't currently own any oxfords or loafers, but I now realize they would solve much of my morning shoe anxiety. They're appropriate for the office but still work with casual clothes, they fill the gap between flats and boots, and you can wear them pretty much all year-round. I prefer oxfords to loafers, but unfortunately there were fewer ethical oxford options to be found.
The ability to dress a shoe up or down is important as well. To avoid having formal shoes that you rarely wear, get your everyday shoes a little more on the dressy side so they can work for more formal occasions.
I'm not looking to chuck all my existing shoes and start over, but this exercise definitely gave me some things to look for the next time I do need to buy shoes.
Have you ever tried to pare down your shoe collection? What are your must-have types of shoes?