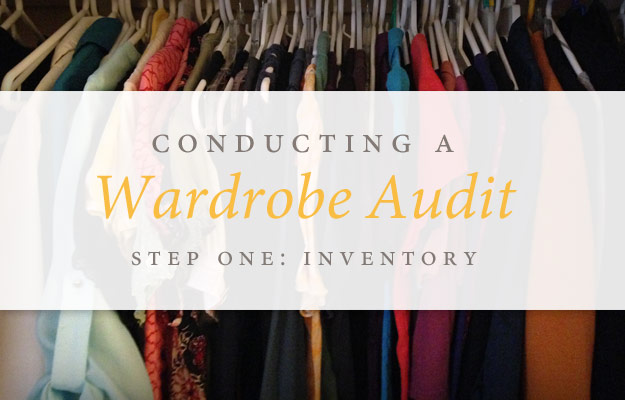 Since working on my shoe wardrobe post a couple weeks ago and having major breakthroughs about what kinds of shoes would actually suit my life, I realized I wanted to assess my wardrobe overall and have those insights about all my types of clothing. What do I have? What do I like, and what don't I like? What should I look for when I shop to make sure I get clothes that I'll really wear?
I'm calling this process the Wardrobe Audit. The goal is to prevent waste by learning to avoid impractical purchases in the future and by identifying opportunities to refashion items I already have instead of buying new. I'll be breaking up the audit into several steps to keep it from being overwhelming. I decided the first step would simply be to take inventory of what I currently have. Counting each item requires that I at least glance at everything, which will help me make some initial insights and determine what to focus on next.
The first funny thing I realized is that I have more clothing storage locations than I thought. I keep clothes in my two bedroom closets, my dresser, the linen closet, and the coat closet (not to mention the clothes that are in my hamper at any given time).
After going through each area, here are the totals I came up with:
Tops: 128
Sweaters: 30
Dresses: 33
Skirts: 22
Pants: 40
Shorts: 7
Pajamas: 11 bottoms, 12 shirts
Coats/jackets: 7
Socks: 58 pairs
Shoes: 35 pairs, plus 1 pair of slippers
I was actually surprised by my shoe number—I thought it would be higher, which makes me wonder if I'm forgetting another secret shoe storage location.
Based on the totals above and what I noticed when counting, the areas I want to focus on next are tops, sweaters, pants, and dresses. I plan to look through each segment in more detail and ask myself:
What items do I really like and wear regularly? Why?
What items don't I like or wear regularly? Why?
Can I alter the items I don't like to make them into something I do like? If not, how can I find them a new home?
Are there new items I can look for that will help make my overall wardrobe more cohesive and wearable? Should new items have any specific characteristics?
For example, I still have several pairs of pants that are too long and baggy or otherwise ill-fitting. I can turn them into skinny pants like I've done with a couple of other pairs, but there might be some pants that just don't make sense with my other clothes (brown corduroy pants, I'm looking at you), so those I would need to sell or give away.
On the tops and sweaters front, one thing I noticed is that I have several shirts and sweaters that I hardly ever wear because they have three-quarter length sleeves. In theory I don't mind three-quarter length sleeves, but in practice, I would much rather wear a short sleeve shirt with a long sleeve cardigan over it. (I think we all know how annoying it is to try to put on a cardigan over a three-quarter sleeve shirt… ain't nobody got time to smooth out bunchy sleeves. And if it's cold enough to wear a sweater, it's cold enough that I want my whole arm to be covered. </oldlady> ) So for future shirt and sweater purchases, I should probably avoid three-quarter length sleeves, and for shirts I already have, I might be able to convert some three-quarter sleeves into short sleeves so they layer better.
Have you ever counted every item in your wardrobe? Were you surprised by the results? Do you share my scorn for three-quarter length sleeves?