The Indianapolis fair trade revelations keep coming! Last summer I learned about Liz Alig, and a few weeks ago I learned that Indianapolis-based Endangered Species Chocolate (ESC) has just been certified by Fairtrade International, making it the first first American-made chocolate using fully traceable Fairtrade cocoa from West Africa.
I'm excited that an Indianapolis company is demonstrating major leadership in fair trade certification. ESC previously claimed on its packaging that it followed ethical sourcing practices, but I tend to be skeptical of ethical claims that aren't backed by a fair trade certification. Now that they are certified with Fairtrade International, I feel much more confident purchasing their products (which I plan to do on the regular now, because omgsooooogood).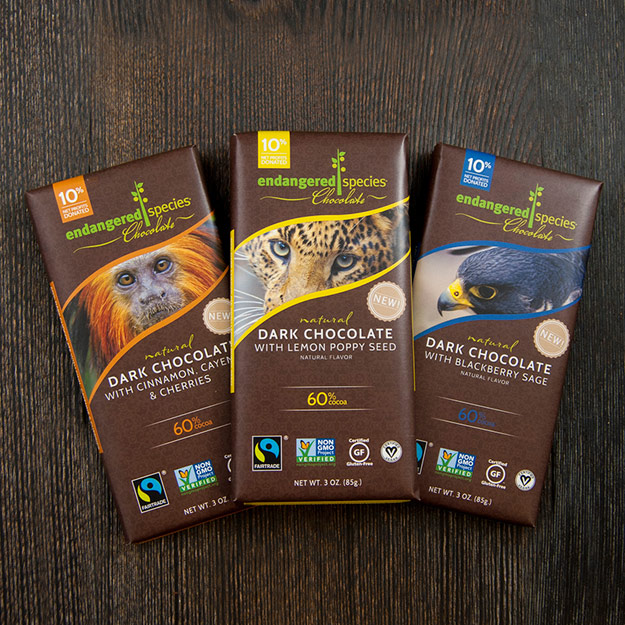 To share the local love and get the inside story on their move to fair trade certification, I spoke to Whitney Bembenick, ESC's research and development manager.
Fair for All: Why was becoming Fairtrade certified important to ESC?
Whitney Bembenick: It is Endangered Species Chocolate's mission to have a positive impact on species, habitat and humanity through the work that it does to make premium, ethically traded, shade grown, all natural chocolate. We believe that we carry an important responsibility to help the fair trade community grow, and that joining forces with Fairtrade International will allow us to continue to expand our work.
How will the certification improve the lives of the cocoa producers you work with?
In addition to paying a fair price, which is set by the Fairtrade Standard and Pricing Unit, we pay an additional Fairtrade Premium of $200 per tonne of cocoa purchased from our farmers in West Africa.  The farmers are then responsible for democratically determining how this money will be spent to enrich the lives of their community.  A few examples of how this money may be used are: fresh water sourcing, community buildings, education for both children and farmers, and investment in improvement of their agricultural tools/systems.
ESC was already following its own ethical sourcing practices. Will the certification change how you do things?
The core of what we have been doing, and what we will continue to do, will not change.  We will continue to ethically source our cocoa from the same farmers we have partnered with in West Africa for years to come, making a positive impact on species, habitat and humanity. However, we now have Fairtrade certified sugar, vanilla and other ingredients that have Fairtrade standards in each of our chocolate bars. We are also looking forward to working with the people at Fairtrade International (America) to develop impact reports which will outline how the work we are doing is impacting farmer communities.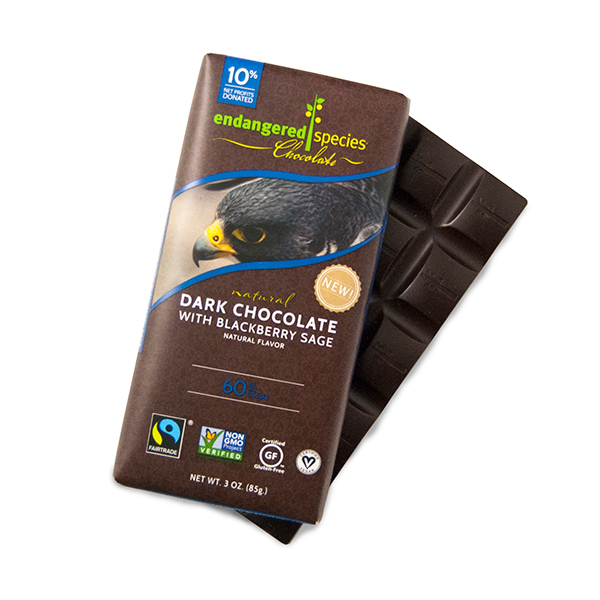 Why did you choose the Fairtrade International certification over other fair trade certifications (Fair Trade USA, IMO Fair for Life, etc.)?
Fairtrade International is the longest standing, most globally recognized fair trade certification. Over 6 in 10 people recognize the logo, and of those people, 9 in 10 trust it. We have confidence in the rigor and transparency of a fair trade organization with that much recognition.
Are all of ESC's products Fairtrade certified?
Yes! Look for the seal on all of our products as they become available on shelf.
Part of ESC's mission is to promote conservation and protect animals. Can you briefly describe the projects you have going on right now in that arena?
In the past three years, we have been able to donate over $1 million to our 10% partners, African Wildlife Foundation and Xerces Society. In addition, we have partnered with several non-profits that are species-related to raise awareness for their cause on the inside of our wrappers. For instance, our Lavender Mint Crème Filled Chocolate Bar features the Monk Seal Foundation and its work to protect the Hawaiian Monk Seal. We also have "pop up" contests sporadically throughout the year on Facebook that both raise awareness and often times give money to various species-driven non-profits.
Where can people buy Endangered Species Chocolate?
The options are endless!  National and local natural grocers have a great selection of our chocolate bars. Many other conventional grocers carry us too, usually in their natural marketplace. Readers can go to www.chocolatebar.com for a product finder, or click on the bar they would like to purchase, and they will be taken to our Amazon marketplace to have yummy chocolate delivered right to their door.
_______________
Thanks to Whitney for sharing the story of ESC's fair trade certification! Of probable interest to chocolate-lovers: ESC also just recently released several varieties of "cocoa spread," i.e. basically fair trade Nutella. *insert that emoji with hearts for eyes*
Is fair trade gaining traction with companies in your city? Have any of your favorite brands gone fair trade?