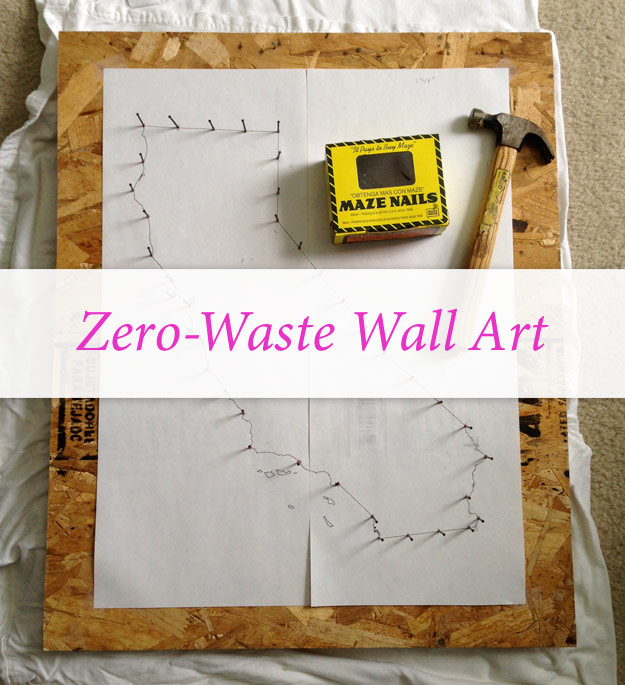 Over the last several months I've been pursuing two different aspects of personal development: revitalizing my creativity and reducing the amount of waste I generate. I've also been trying to combine these two pursuits, which led me to ponder ways I could create art without also creating waste.
I had recently made myself an Indiana wall-hanging with nails and plywood when my sister commented that her husband would probably like a similar piece of art in the shape of California for his upcoming birthday. (It's already come and gone, so this post isn't a spoiler.)
From a Facebook query asking for supplies, I discovered that one of my friends has a lapsed woodworking hobby. He was happy to give me a big scrap of plywood as well as the small wood pieces I attached to the back. (The backing pieces keep the plywood off the floor when you're nailing and keep the nails from scratching the wall when you hang the finished piece.)
I printed the outline of California tiled on four sheets of paper so it would be big enough for the piece of wood. I made X's on the outline where I wanted nails to go; I think it was about every inch. Having the nail placements marked was helpful so I didn't have to eyeball it as I went. I taped down the outline and hammered a nail all the way through the plywood at each X.
I then tore off the paper and was left with just the nails creating the outline. I spent some time experimenting with how I wanted to make the shape visible. Should I do zig-zags in the interior of the shape? Just a border around the outside?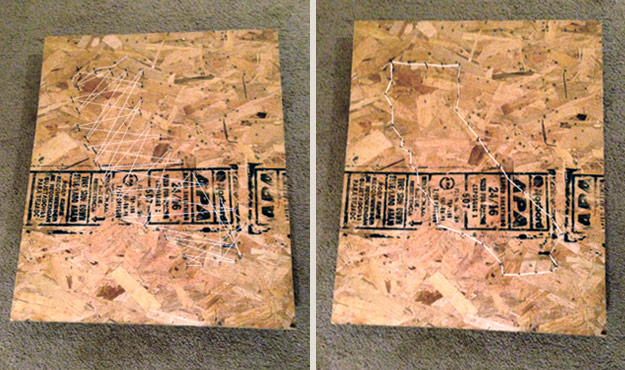 I decided to do both techniques together. The zig-zags are embroidery thread, which I attached by simply knotting it to one of the nails. The outside border is some white binding tape I had in my craft drawer from years and years ago (when I mistakenly thought binding tape would have adhesive properties—protip: it does not). I wove the binding tape around the outside nails and then hand-sewed it at the corner so it would sit flat, rather than having a big knot.
Materials used:
Reclaimed wood from a friend's garage
Made in USA nails I already had (plus a few I borrowed)
Four sheets of paper
White embroidery thread I already had
White binding tape I already had
White thread I already had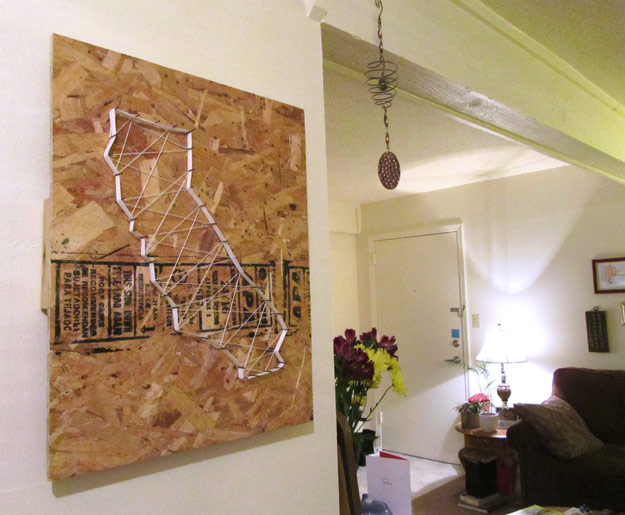 One thing I like about this piece is that it can theoretically be disassembled and the components reused. I used no glue, so none of the elements are fused together inseparably.
I had been looking for a way to use a large quantity of the nails, which I bought without realizing they are "finishing nails," which means they don't have a head and are therefore difficult to pull out of the wall. Apparently Americans only make specialty nails, not basic ones for hanging pictures, so this was the most normal style I could get that was made in USA. (I'm not sure if it was more or less wasteful for me to buy 500 impractical American-made nails instead of 50 Chinese-made nails that were actually what I wanted.) I did have to borrow a few nails from a friend to attach the backing pieces because my nails were too long.
Technically I did waste a few pieces of Scotch tape, which I used to tape down the outline of the state, and I did have to recycle the paper after I tore it off. But overall I bought no new materials, found purpose for items that could have gone in the trash, and ended up with a minuscule amount of waste (not to mention a super-cool gift for my bro-in-law).
What DIY projects have you created lately? Are you working any zero-waste ideas into your lifestyle?