For as long as I can remember, my mom and aunts have had a big vendetta against the color coral. "It's not even a real color," they would say, scoffing at any coral-colored garments on the rack at Nordstrom (our frequent shopping destination in my childhood). It's taken me years to overcome their anti-coral propaganda, but I've been fully embracing the color lately and let me tell you, it feels good.
I recently received the Karina dress from Synergy Organic Clothing to try out, and I was drawn to it first for its coral and reddish-purplish stripes. It's like if Beetlejuice was a skater girl from a tropical climate, which I mean as a compliment.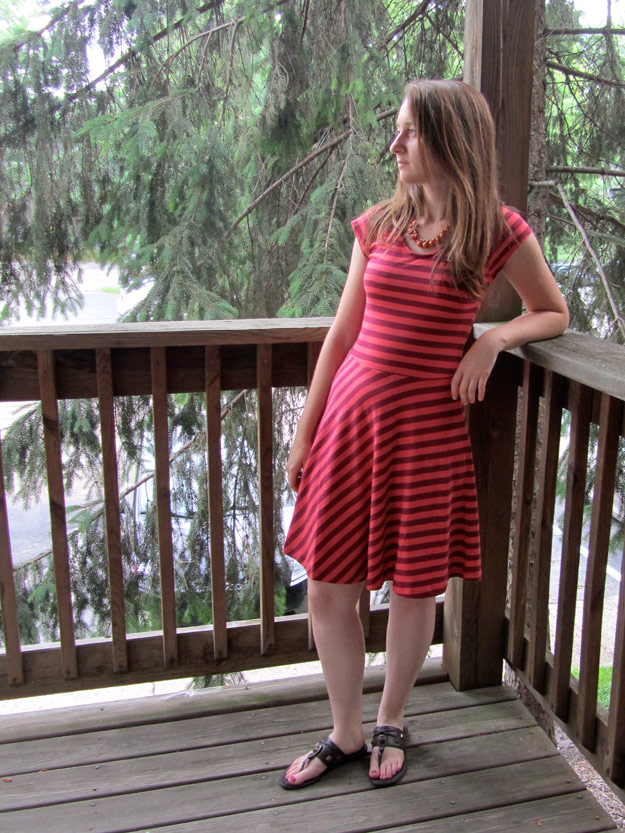 The swingy skirt and scooped back also appealed to me, and as always, I went for sleeves and a not-too-short length in case I want to try to wear it to work. The cotton fabric is wicked comfortable.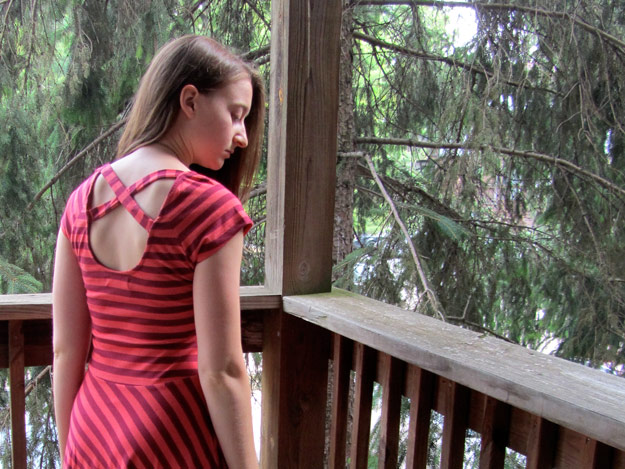 The dress fit perfectly out of the box except for the straps that cross the scooped back. If I was slouching, the straps were about right, but if I stood up straight, they were kind of loose and droopy. I like to err on the side of good posture (which I attempt to have occasionally), so I shortened the straps a little with a few quick stitches and now they fit whether I'm slouching or not.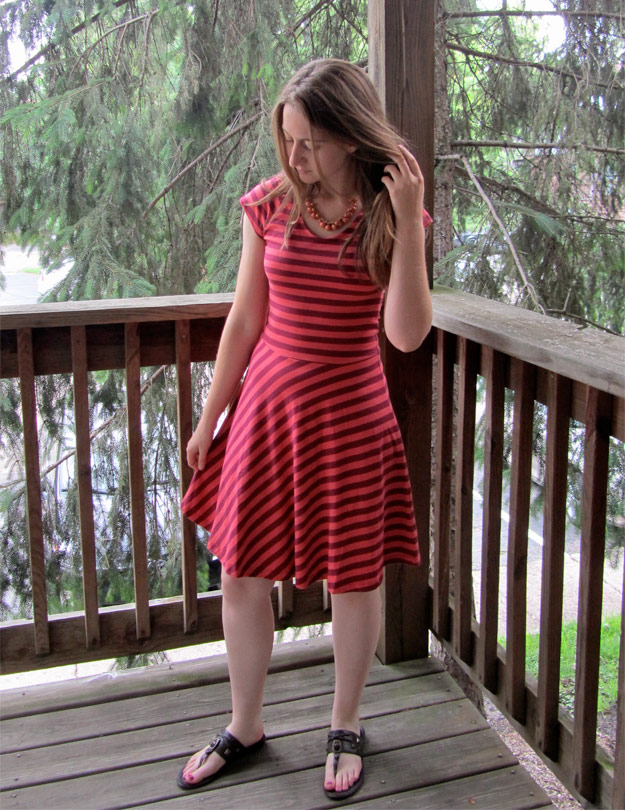 The one thing I wish this dress had was pockets. I keep putting my hands on my hips expecting pockets to be there and I'm disappointed every time. However, I love the real-world-helpful description of the dress on the Synergy website. How many online stores have notes like "Scoop neck in front and back, high enough that you can still wear a bra"? Thank you for knowing what I actually care about!
In terms of ethics, this dress is firing on all cylinders. The fabric is 100% GOTS-certified organic cotton dyed with low-impact dyes (meaning it meets certain requirements in regard to toxicity and biodegradability), and the dress is sewn in a fair trade operation in Nepal. Synergy is also a Green America Certified Gold business. Learn more about Synergy's ethics.
I'm looking forward to wearing this dress to cookouts and swing dances and for general frolicking. Does your family hate on a particular color? Can you even imagine not liking coral? (I can't anymore.)
P.S. Synergy is currently running a summer sale: Get 20% off your clothing order with code summer20.
Disclosure: Synergy Organic Clothing provided this dress for free for me to review. All opinions are my own.