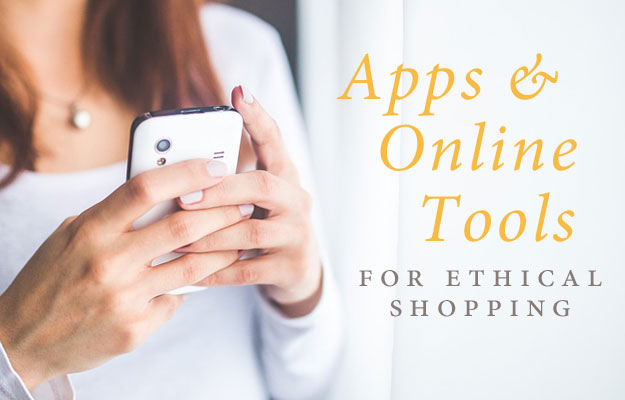 As a companion to my recent Beginner's Guide to Ethical Shopping, I wanted to share this post by Kasi Martin of The Peahen about apps and online tools to help make ethical shopping easier. Kasi is a devotee of ethical fashion and writes about brands, designers, issues and trends at the intersection of style and standards.
Ethical designers catch a lot of flak for not being fashion-forward enough. When I bring up ethical fashion to a friend or outsider I usually get a skeptical eyebrow raise. Before I make a style recommendation, I'm forced to brandish it with an ethical disclaimer. "Oh, you're on the hunt for a new brand of denim? There's a new organic hemp denim brand I discovered –  but you know – it's all that hippy-dippy shit I love."
I want to stop this justification madness. Ethical should be cool. It should generate just as much excitement for shoppers as a Zara haul…even if it's more expensive.
Zara copies trends as they trickle down from the runway. Ethical fashion creates trends that travel up to the runway. This is ethical fashion's redeeming quality that makes it appealing to the masses. Issues like greenwashing or human rights may be entirely off your radar  [I will eventually convert you] – but ethical fashion gives you the ability to shop according to your terms. Because trends start from the bottom, you have power to pause for a reality check and confidently say – "Hey, I'm not okay paying 300 bucks for a pair of knock-off Rockstud pumps because Valentino said they were cool three seasons ago." Ethical fashion makes you a rebel WITH a cause.
Still, with all this power of choice in front of you, ethical brands are disparate and hard to discover. You could click on a cathy Instagam one second, and the next it's flying off your radar into the social media abyss. What sticks? How do you find which brands are right for you?
Well, stop by here for suggestions. My 'elsewhere' list is a good place to start. But there are also a few online tools that will help you reign in the option overload, discover what's new and audit what you already love.
No excuses for not buying ethically now, this is shopping empowerment at your fingertips.
For the mobile shopper
Orange Harp – A mobile app that puts artisans and brands in one place. Checkout Lovehewn jewelry. And it's not just fashion! Buy through the platform to donate a bit extra to fight human trafficking.