January looms before us as a barren wasteland of post-holiday gloom. But fear not! I have two free events coming up that are sure to break up your winter doldrums.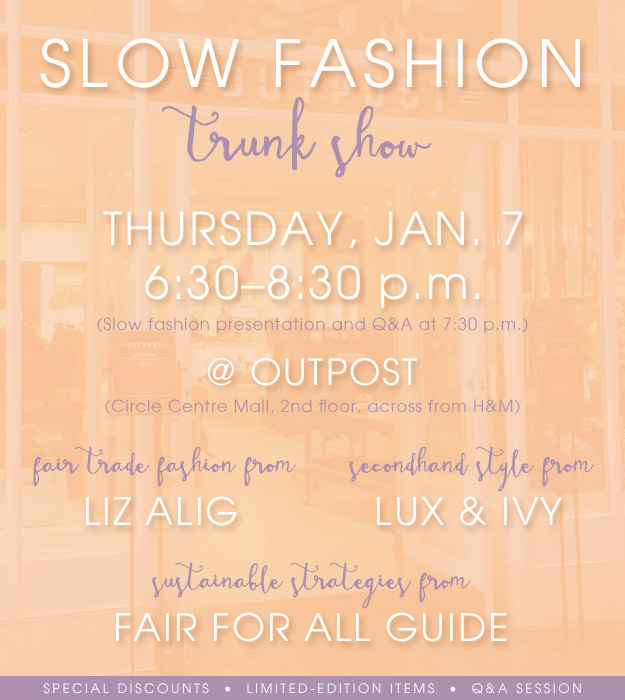 Slow Fashion Trunk Show
Thursday, Jan. 7 from 6:30–8:30 p.m.
@ Outpost (Circle Centre Mall, 2nd floor, across from H&M)
Elizabeth Roney from Liz Alig, Sara Baldwin-Schatz from Lux & Ivy, and I are teaming up for an evening of fair trade fashion, secondhand style, and sustainable strategies. Elizabeth and Sara will offer great slow fashion items from their brands, and I'll speak on the differences between slow fashion and fast fashion, with time for Q&A from all three of us. It's also a great chance to see the Outpost pop-up shop before it closes!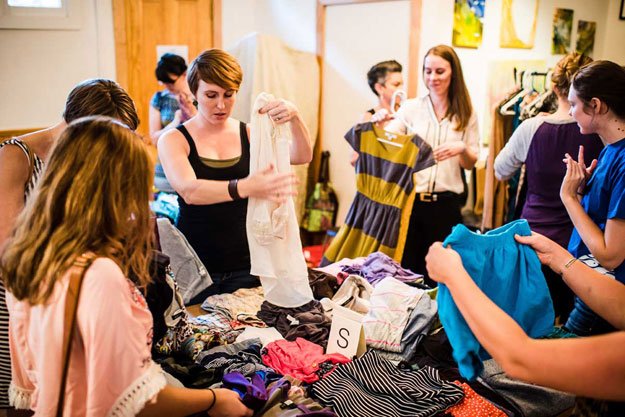 WinterSwap16 Women's Style Swap
Wednesday, Jan. 20 from 6–8 p.m.
@ New Day Craft
FairSwap15 was such a big hit last September that we're bringing it back in January! Collect any wearable holiday gifts that weren't quite your style, plus any other unwanted clothing, shoes and accessories you have, and bring them to WinterSwap16. This swap will be bigger and better than the last with more items allowed per person. Plus, New Day's famous Mead & Knead will be going on at the same time! Sign up and get the full details. Spots are limited!
Check out photos and details from past events on the Events page. Happy holidays and I'll see you in January!