A few weeks ago I was running errands in the Glendale area of Indianapolis and saw a billboard for a new store called Vintage Vogue just around the corner. I can rarely resist the urge to explore anything labeled "vintage," so I immediately went to check it out: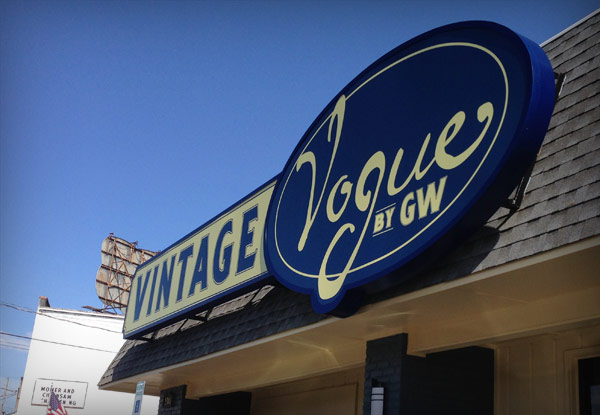 Before I went in, I pulled up their website to check that they were open and see if they were truly a vintage store, as opposed to a boutique that sells 90% new stuff (which is an irritating trend I've seen lately—boutiques trying to bill themselves as vintage when they're not). I was surprised to find that this particular shop wasn't truly vintage, either, but not in a shady way—it's actually a new concept from Goodwill. You could call it "Goodwill: Just the Good Stuff."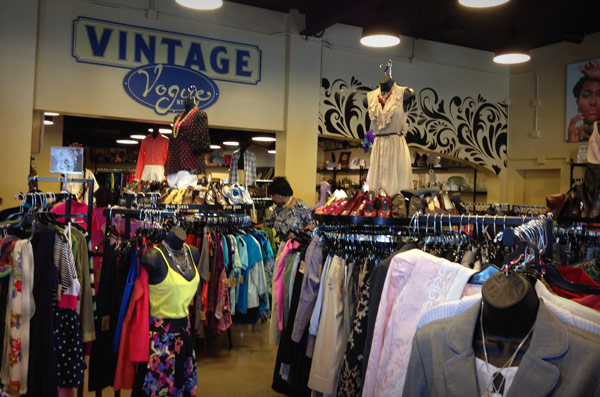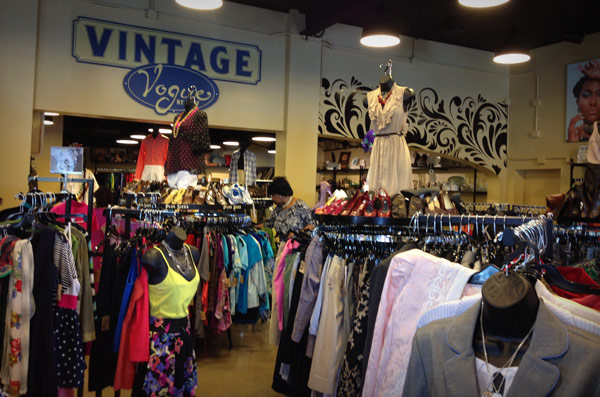 The shop sells used clothing such as what you'd find at a regular Goodwill, plus accessories and a handful of home decor items, but it's filtered to include only the more fashionable and high-quality items. As you can see, the store itself is designed like a boutique, in contrast to the bare-bones look of other Goodwill locations. The items are at a slightly higher price point than regular Goodwill, but that didn't bother me, since I saved time by not having to sift through a lot of out-of-fashion or poor-quality items.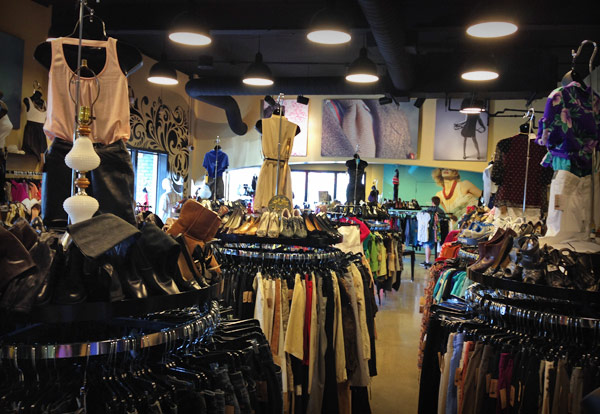 Following my thrift store shopping guidelines, I looked for a couple of specific items: versatile shirts I could wear to work and on the weekend, and black skinny pants. I found a White House Black Market shirt for $9 and black Forever 21 jeans for $7.50.
One concern that occurred to me as I shopped was whether this kind of store takes good items away from regular Goodwill stores. People who can't afford the higher prices at Vintage Vogue should still have the opportunity to find high-quality items. My thought was that Goodwill's donation volume is probably so high that pulling items for these stores wouldn't make a huge difference in the overall selection. The Vintage Vogue website seems to confirm that assumption:
Vintage Vogue merchandise comes from select central Indiana Goodwill stores. These stores hand-pick a small portion of their upscale and vintage donations to send to Vintage Vogue. Special items and boutique merchandise can still be found at any of the more than 50 Goodwill locations in central Indiana.
It looks like Vintage Vogue is just a central Indiana concept right now, with this store in Indianapolis and another one in Bloomington. If you're in the area and are looking for a gateway into shopping secondhand, I recommend checking it out!
Have you had any good thrift store finds lately? What are your favorite thrifting spots?